Glenn Kelly: A Rising Musical Prodigy
In light of the hardships of a demanding, trying, pressuring life as a high school teenager; some kids have found an ability to discover and seek what their future might hold for them. In this case, Verrado High School junior Glenn "Connor" Kelly, has found a path that he plans to proceed with. It includes long haired dudes, an abundance of talent and a legendary style of music: Rock N' Roll.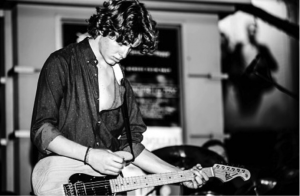 Kelly's musical skills are shown through the strings of a guitar which he started playing at the age of 10, and has now been playing for seven years. During the first few years, he was also a club baseball player, which called for a lot of practice. What got him into playing was the discovery of his grandfather's old hollow body electric "I pulled it out of the case and immediately I was interested. It was like the heavens parted when I opened that old, dusty guitar case" said Kelly.
Two years ago, Kelly set down the baseball glove and hung up the cleats and became serious about his guitar playing, which started him on his righteous path.
Every musician has some kind of inspiration, whether it be a band or solo artist. Kelly's earliest inspiration was the iconic American hard rock group: KISS. "My first concert band I got into was KISS in the summer of 2010. When I heard Ace Frehley's just nasty raw guitar playing, I was immediately hooked. He's one of the most original and unique Rock N' Roll guitar players that I've ever listened to," said Kelly.   But his heaviest influences come from Guns N Roses, Led Zeppelin, and Van Halen. "It's not just his playing but he is surely the most recognizable player of all time. He plays with a certain feel and style that's heavily influenced by blues guitar players and straight up rock guitarists. I'll try not to get into it because I could go on for days about Slash…" said Kelly about Slash, the guitarist for Guns N Roses.
Kelly has multiple inspirations he says, "The next player is Eddie Van Halen of Van Halen. He is the one guitar player who completely created his own style of playing. He is the one guitar player that makes me view the guitar as an instrument with endless possibilities." Another influence for Kelly is the guitarist for Led Zeppelin, Jimmy Page. "Page can go from driving ballads on an acoustic guitar to the raunchiest riffs and licks without even it phasing him."
With these heavy inspirations. Kelly incorporates a lot of classic and hard rock into his playing. "I'm a through and through Rock guitar player. Of course there are styles that I also love to throw into my rock playing. I love to play blues guitar as well because that is the most soulful to me and I feel it in my whole body. You will definitely see me playing Rock N Roll guitar when I perform."
Kelly has an impressive amount of guitars, around 15 total. "You can never have enough guitars when you've been around guitars as much as me. I love Gibson and Fender, preferably the Gibson Les Paul and the Fender Stratocaster."
The talented musician is also always looking for new ways to improve his performance on stage, "I'm constantly watching videos of great performers and how they improvise on stage and the way they move, strut, and walk with such attitude…the tension between the performers and the crowd bounces back and forth between them and that's what I try to emulate the most, the way they get the crowd going and things that are said on stage to make the performance extravagant to watch and take part of."
The young guitarist even incorporates this style of music into his own band called: Undecided Youth. The band formed in November of 2015 and consisted of Kelly, a female lead singer he met at an open mic night, and a drummer he knew. Since then the band has found a bassist and lost two drummers, but has found a new one that Kelly has taken a liking to. Undecided Youth has gotten around quite a bit, as they play regular gigs at a Packers Sports Bar called Cheezeheadz as well as some pretty impressive gig venues including the Rebel Lounge in Phoenix and Alice Cooper's restaurant.
Attending an Undecided Youth gig is no doubt made worth it by Kelly's guitar playing. At the gigs, many members of the audience stare in admiration at his skills and even take videos.
Despite the success he has already enjoyed, he is nowhere near being done. "I'm never satisfied with my playing. There will always be new things to learn and styles to get down. I love learning new things and building my repertoire to make me a better player."
Kelly has a seemingly proficient way of dealing with mistakes during his performances, "I usually just brush it off as if nothing really happened or if it's real noticeable then I'll laugh and shrug it off." He claims that the reason messing up doesn't bother him so much is because there hasn't ever been a perfect show where someone doesn't make a mistake.
Kelly faces challenges just like any rising musician, but he says his hardest one is his competitors, so his noticeability is of great importance to him. His recognition of his style and image is his main goal. "I don't really care about the money or fame, although that would be sick. I want my music to be my career."
He shares some advice for young and starting musicians and also what he wished he could have told his younger self. "Honestly I would just say to never give up and keep working hard. Just play, play, and play and practice hard and you'll get to where you want to be. Let the guitar and the music inspire you to do great things and shine light on people's lives."
It has been said that Rock N Roll is dead, that the era of highly influential performers in that genre is over, but with rising music prodigies like Glenn Kelly the future of Rock looks promising.