…And So the Journey Begins…
BUCKEYE – This year's spring dance concert will be performed on May 2nd, 3rd, 4th, and 5th in the Verrado High School auditorium at 7pm. All of the beginning, intermediate, and performance dance classes have dances in the show that they have been working on all year.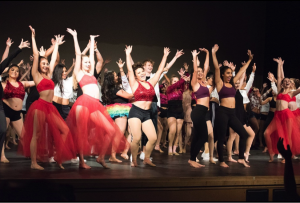 The theme of this years show is "…And so the Journey Begins…" because this is Ms. Buchanan's first year and she is just beginning her journey at Verrado.
This is the first year that there is pre-sale tickets for the show. Students can purchase them in the bookstore for $5 with ID and adult tickets for $7. Ticket prices at the door are raised to students with ID for $7 and adults for $10.
Ms. Buchanan has made a of couple changes to the show along with the ticket prices. The show is usually only two nights, but she changed it to four nights to ensure that more people would be able to go and see all of the hard work the dance students have put in. The money from the ticket sales will make money for the entire program, so it will be easier to purchase costumes for next year.
With this being her first year, Ms. Buchanan has faced all of the obstacles that come with running a show with ease. "The most stressful thing about the show was putting together the costumes and making sure they all arrived on time. Creating the line-up of the show was hard too, I didn't want girls in performance to have too many back to back dances," says Buchanan.
There are a lot of first time dancers in this show as well, senior, Kara Becton is in beginning dance and this is her first show. "Nothing was super hard when preparing for the show, Ms. Buchanan made it easy for us to learn the dance quickly. She made everything make sense for all of us," says Becton.
Some of the dancers have been in the show all four years of their high school career and they are excited that they have made it this far, Megan Shulz a senior in performance dance, says, "I am honestly excited it is my last show at Verrado."
The beginning, intermediate, and performance dance classes each have at least one dance. Each class started learning their dances in January, and have been working hard ever since.
Overall Buchanan is excited for her first show, "I am thoroughly impressed with how the students and dances have come together. The show has surpassed my expectations and I feel so prepared for these next four nights."