Freshmen Play an Integral Role in Verrado Baseball's Playoff Run
BUCKEYE– Stop me if you have heard this before: the Verrado Vipers baseball team cruised through the regular season, reaching the state tournament yet again.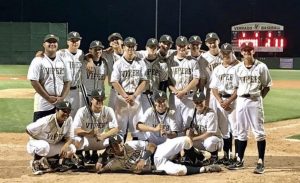 It has been a common theme, a trend even, for one of the most successful programs around the school. And this year, they did so with two freshmen on the roster serving as integral pieces on their way to a dazzling 15-3 regular season record.
Seth Sweet-Chick and Colten Keith, both rookies on a roster rich of upperclassmen, did not miss a beat when their numbers were called upon heading into the season. At the end of winter ball, it was pretty obvious they were not typical freshmen. They were mature, talented ballplayers who had spots waiting for them on the varsity squad.
"We never keep freshman because they're good players. We had a fantastic freshman class of baseball players this year. Freshman make varsity at Verrado if they can impact the game at the highest level. Both Seth and Colten were impact freshman," explained pitching coach Nick Swanson via email with the Viper Times.
Sweet-Chick, a relief pitcher, and Keith, a utility man, certainly stepped up to the plate for Swanson and the rest of the coaching staff. Sweet-Chick appeared in 11 games on the mound, compiling a 3-1 record with a 4.28 ERA in 18 innings pitched. He struck out 18 and walked 11 batters over that stretch.
"My first appearance in a big situation was against Liberty. I came in with the bases loaded and two outs," Sweet-Chick said, recalling the time where he first felt like he fit in on this roster. "I felt like they had confidence in me, and like they could go to me."
High school baseball can be a lot to soak in for freshmen, and especially so if they are at a completely new school. Keith, dubbed "Utah" by his teammates due to where he had previously moved from, had no issues adapting to his new home, new school, or new team.
The left-handed hitting Keith quickly found himself immersed in a right-handed heavy lineup, bouncing around as a middle infielder, designated hitter, and outfielder. He finished his freshman campaign with a .200 batting average to go along with nine RBI in 35 at-bats. Four of his seven base hits went for extra bases, a promising display of power in his first season as a Viper.
"I am blessed to have been able to experience this season with my teammates. They became my best friends as soon as I joined the team and they accepted me even though I was a freshmen," recapped Keith.
As Keith made note of, the boys were extremely welcomed by their new teammates as soon as they stepped foot on the field. "They weren't your typical freshmen on the team. I know that if I can do my job, I can always count on them to pick me up and do their job," added Wellman.
Part of that thought process, I do my job and you do yours, perfectly exemplifies why this Verrado program has enjoyed so much success in recent years.
Sweet-Chick and Keith are the first freshmen regulars on a Verrado varsity baseball team since Brady Bulger did so in the spring of 2015. Bulger, the 2017 Desert West Region Player of the Year, has put together an impressive stat line in three years so far with Verrado. In 81 games, he hits for a .401 clip, while racking up 99 hits with 55 runs driven in.
If history repeats, which it tends to do so, Sweet-Chick and Keith may be the faces of Verrado baseball for their remaining three seasons, a la Bulger's bursting onto the scene just a few springs ago.
"Seth and Colten have a year of varsity baseball under their belt and they both performed well. When you get a opportunity to learn from our seniors, it could only help you in your young career. The future is very bright for these two young men," concluded Swanson.