Verrado's Maverick Gamez Receives State Honor
The Verrado QB is the State's Student Scholar of the Year
Verrado senior Maverick Gamez will be awarded the Arizona Interscholastic Association's Male Scholar Athlete of the Year on May 15 at the University of Phoenix Stadium for his hard work on and off the field. The award recognizes the academic and athletic excellence of Arizona's top student male athlete with at least a 3.50 GPA.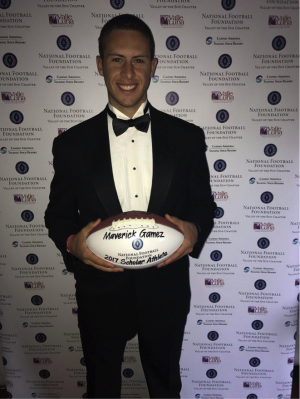 "It is very prestigious, and there were quite a few very qualified applicants who could have been selected. But by being selected it affirms that I am doing the right things, that I have my priorities straight, and other people are recognizing this," said senior Maverick Gamez via Twitter.
The Verrado faculty and those that know Maverick are not the least bit surprised that he was selected for such a prestigious award.
"Maverick is a student-athlete that every coach loves to coach. He is dedicated, hard-working, accountable, and talented," said Verrado head football coach Derek Wahlstrom via email with the Viper Times.
Gamez has displayed his leadership abilities as one of Verrado's varsity football team's captains as well as the president of Verrado's National Honor Society. Gamez was a key force behind this year's Unified Field Day.
"A leader must have followers, and Maverick has earned a loyal following due to his willingness to put others first and be a servant-leader," continued Wahlstrom.
Under his leadership, the Vipers defeated district rivals Desert Edge for the first time in a thrilling double overtime 6-3 victory. Passing for 2141 yards and 17 TDs, Gamez has had a successful football career, including a trip to the playoffs, but there is more to Maverick than what happens between the white lines of the field.
"The reason Maverick was awarded this honor was because he is consistent in everything he does. He works diligently on all the tasks laid out before him such as his performance on the football field, but also in the classroom, and in his volunteer work with Unified Sports," commented Wahlstrom.  
Gamez's work ethic is second to none, something his teachers and coaches have noticed.
"Maverick is exceptionally hard working. He is the hardest working student I know. I think he stands out compared to other seniors because after prom, most seniors check out, but not Maverick. He is pushing it out until the very end," said Mrs. Eisen, Verrado's AP Government teacher.
This is not the end of Gamez's football journey. After this month's graduation, Gamez will go on to play football at Arizona Christian University.
"After high school I will be attending Arizona Christian University where I will be furthering my faith, education, and football career," stated Gamez.
Success requires hard work, and with a work ethic like the one Gamez possesses, there is a powerful motivation that drives him to pursue the sport he loves and chase after success.
"My motivation has always been that I play for an audience of one. I plan on strengthening that focus as I grow my relationship with God. There is also something to be said about having your brother's back and playing out of love for the guy next to you," said Gamez