Summer Box Office Expected to Heat Up in Months Ahead
The hot summer months of the year also come with the biggest box office revenue for the movie industry. Since 2007, the summer box office has hauled in over four billion each season. This summer is expected to be no different with major releases from Warner Bros, Universal, Paramount, and Disney.
The summer box office season kicks off with the release of Guardians of The Galaxy 2 on May 5th. Expectations are high following the $700 million dollar gross of the first film. Other releases include Alien: Covenant, due May 19, and the fifth entry in the Pirates of The Caribbean franchise, which opens the week after.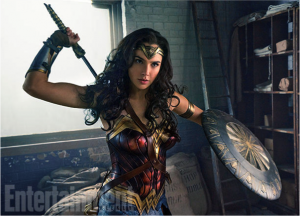 "One of the best things about summer is all the good movies that come out in those months. It's a fun thing to do with all your friends," said senior Tiffany Covarrubias. "I'm excited for Wonder Woman!"
June and July will see huge releases like the long anticipated live action adaptation of Wonder Woman, starring Gal Gadot which hits theaters June 2. Mark Wahlberg returns to the Transformers franchise, helmed by Michael Bay, which will debut June 23. On July 7, Marvel will premiere Spider Man: Homecoming, the long awaited reboot.
"I love going to the movies in the summer because you can go any time you want," said senior Alexia Soto. "The only movie I'm excited about is Spider Man: Homecoming."
This summer is also projected to see a slew of sleeper hits to stand alongside the blockbusters. Following rave reviews at The SXSW Festival, the action comedy Baby Driver arrives in theaters on June 28, which focuses on a getaway driver on a risky heist. On July 28, Atomic Blonde hits theaters, starring Charlize Theron as an undercover spy in Russia during the Cold War.
"Blockbusters and speciality releases alike are poised to bring the summer heat in the weeks ahead," said Joey Nolff of Entertainment Weekly.
Although most of the summer's releases are big action releases, this summer also a few smaller independent films. Riding of the success of last years Manchester by The Sea, Casey Affleck stars in A Ghost Story, hitting select theaters on July 7, which is a romance that tells the story of a deceased man who tries to connect with his still living family. In select theaters July 28, former Vice President Al Gore narrates the documentary An Inconvenient Sequel, which is a follow up to 2006's smash hit, An Inconvenient Truth, shows the startling effects of climate change throughout the years and what it holds for the future if we don't act now.
From blockbusters to arthouse films, to everything in between, this summer movie season is slated to have something for everyone.