The March for Science
Verrado High School Junior Brooke Hardesty, spoke in front of a large crowd for the March for Science in Washington, D.C. on April 22, 2017.  The March for Science was a protest against President Donald Trump's policies against climate change and lack of funding for scientists and their programs.  
Brooke was not alone as people around her shared very similar views against Trump's cuts in funding.  Brooke Hardesty was one of the five lucky high school students to speak in front of the crowd and meet Bill Nye the Science Guy.  She even posted pictures on social media of her leading the rally with her fellow teens.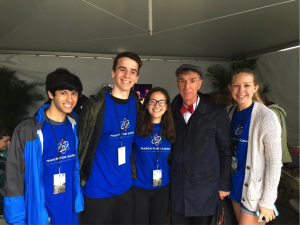 Brooke told The Washington Post, "I've never been around so many other people who are excited about science."  The teens were very excited to meet Bill Nye and to speak at the rally.  Brooke and the other teens went to the March for Science to show why climate change is a relevant problem and is not something that should be ignored.
Back at Verrado, students and teachers were cheering on their fellow classmate in D.C.  Spanish teacher, Mrs. Owens, expressed her excitement that someone so close was making a difference.  "Our world needs more fearless leaders who aren't afraid to stand up for what they believe in."
Students who do not even personally know Brooke were proud.  "I don't know Brooke but it's so cool to see someone from Verrado be at such an influential event." said Junior, Eliza Alamillo.
Many people arrived at this march and it is being compared to the Women's March that occurred back in January.
Both marches are in response to both remarks and policies that Donald Trump has made.  The March for Science and the Women's March were quickly celebrated on Twitter for the witty signs that many were carrying.  People leading the march would chant "when do we want climate change?" and the response would be "ten years ago!"