VHS Yearbook Reveal Party
VHS Publications is hosting its annual Yearbook Party. This is the time to celebrate the school year coming to an end, as well as enjoy friends' company, and a slice of pizza.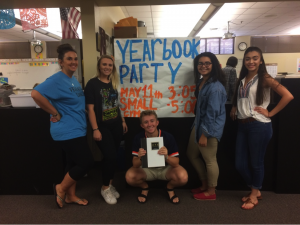 The party will be on May 11, 2017, in the small gym at Verrado. It will be from 3:05-5 pm. Pre-sale tickets are $3 a piece and at-the-door tickets will be $5 a piece.  Student Emily Valdez shared, " I am going to see how it turns out and also get my yearbook signed and hang out with my friends."
There will be food, drinks, games, and a photo booth. Publications class member, Ashley Stalker states, "We have worked really hard to make this enjoyable for everyone, it's going to be tons of fun!"
Everyone that attends will get a pizza, chips, and a drink of their choice.  There will also be a slideshow, music, a photo booth, and giveaways!   Student Nathan Marti said, "I am definitely trying to attend the party, I know that Yearbook has worked hard and I want to see how everything turns out."
If you decide not to attend the party, and have purchased a yearbook, you will not receive it until May 15th. If you have not purchased a yearbook, they will be available in the bookstore  before school, during lunch, and after school starting Monday, May 8th, but you will not receive it until the 15th. There are only 20 left, and first come first served, so get yours now!
VHS Publications has made it their goal to create something great for the students, come join at the Yearbook Party and see how great it will be!