Vipers Return to the Classroom
A new school year begins for the Vipers
With Ms. Tiffany at the helm, another school year has started for the Verrado Vipers.  This year proves to be one of new beginnings and fresh starts.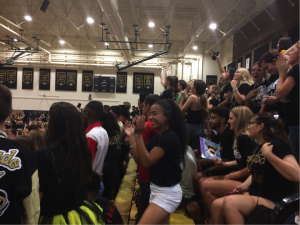 The 2017 school year is a transition not only for new staff members, but for this year's class of freshmen. No longer the top dogs of middle school, the freshmen have to adjust to high school life.
"I was nervous but excited too," freshman Ethan Goulding said. "But now I am used to it. It's pretty easy."
For those new to the school, Verrado is known for the unique atmosphere and culture the school creates. While the motto of "One World. One Verrado," is often mocked, it is what makes Verrado different from other high schools.
"The culture here has been one of acceptance, one of us working here together as a team, as a family," new principal Ms. Kristen Tiffany said. "The whole school [comes] together as a family to create that community feel."
While this year may be a new beginning for the freshmen, it is the start of a conclusion for the class of 2018. Senior year can be overwhelming with emotions, and the decisions to be made may seem daunting.
"I was pretty scared," senior Kimberly Hasse said. "There was a part of me that was like we're almost done, but after this it's life. You're going to have to figure things out for yourself."
While senior year may be known for being the best year of high school, seniors need to stay on track for graduation but remember to still have fun.
"I'm going to all of the dances," Hasse said. " I'm going to try to go to all of the football games, home and away. I'm going to go to all of the soccer games, some of the basketball games, badminton and sand volleyball [to] be involved this year."
A successful school year is what every student and staff member wants. A wish like that is easier said than done but valuable nonetheless.
"The most important thing is coming to school everyday with an open mind knowing that they are going to be learning a lot of new things this year," Tiffany said.
Ranging in various topics clubs such as Science Bowl, Glee Club, and Dungeons and Dragons, the 40 clubs offered at Verrado are sure to garner the interests of all students.
"We have amazing kids," Tiffany said. "Our kids do so many awesome things in the classroom, in competitions, sporting events, our plays, or dance classes and productions."
Getting involved in school is invaluable to the high school experience. Memories made in clubs and sports are going to be the most memorable parts of high school.
"I would tell my [freshman self] to have fun.  It's okay to go to a football game. You're going to be fine if you just keep your head in the game," Hasse said.