Verrado Joins 1:1 Technology Movement
A Chromebook is offered to every student this school year
The Agua Fria Union High School District has introduced a new technological addition to the classroom that will lead to a more efficient school year. The 1:1 student-device plan provides each student with the option of receiving a Chromebook or to substitute the school-issued device with a personal PC.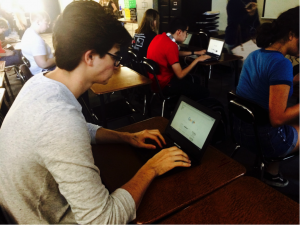 Unlike the previous "Bring Your Own Device" policy, cell phones will no longer be needed inside the classroom. With the constant evolution of technology, education attempts to keep up.
"Technology integration within the learning process continues to be one of the most visible changes to the classroom teaching and learning environment," Superintendent Dennis Runyan said as quoted in the West Valley View.
As more assignments require technology for research and class projects, the Chromebooks allow all students to complete their classwork.
"It gives an opportunity to those that don't have their own computer to have a piece of technology at home that allows them to complete school work," Verrado Network Technician Eric Laneri said.
While the Chromebooks can be beneficial, the technology has its faults. Unreliable Wi-Fi and the ever present distractions of technology can hinder learning efforts.
"The only major con that we are running into here at Verrado is that the WiFi can't keep up with the 2000+ devices here on campus, and unfortunately that can cause strain for other devices here on campus that are not student based," said Laneri. "Another downside to the Chromebooks is that if the internet is down completely, everything comes to a screeching halt. You can't teach; you can't research. You really can't do anything. The Chromebooks are not designed to technically work offline."
The transition into the technological movement provides students with the ability to access assignments, research sources and teachers through email.
"You will have access to everything you'll need," English teacher Rachel Diehl said. "Like in my classes I put everything on Google classroom, and you can just make up the work. I am pretty much able to go paperless. I can give assignments to kids without worrying about making copies or the printer breaking."
It can be expected that technology will continue to play an important role in the future of education. Right now, that role can only be imagined.
"Five years ago if you would have told me we were going paperless and all the kids had Chromebooks, I might not have believed you," Diehl said. "So who knows in five years where we'll be."
For some, the future of technology and education is not hard to imagine at all. With advanced technological devices prominent in today's society, it is easy to base thoughts of the future on what has already been invented.
"I think the role of technology is completely expanding," junior Alina Guerin said. "It [technology and education] is already so intertwined. I think you could use those [VR's]. Instead of going and talking about it, you could go and interact with people back then and learn that way."
While the strides technology makes will continue to change how society functions, technology can never take the place of teachers.
"I don't think it [Chromebooks] really affects my school year because in the end it's really the teachers that affect your school year," Guerin said.