Tom Ward: Award Winning Head Coach
Ward Named Coach of the Week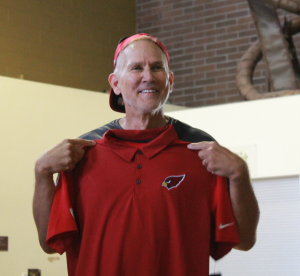 First year varsity football head coach Tom Ward was named Coach of the Week by the Arizona Cardinals. Verrado (3-1) upset reigning state champion Williams Field (3-1) in a 19-9 victory Friday night.
The Vipers handed the Blackhawks their first loss in two seasons. Such a feat is not unprecedented at Verrado with last season's 6-3 double overtime victory over Desert Edge.
"It was a great victory for our program and a credit to the hard works of our players and coaching staff," Coach Tom Ward said via email.
Ward was named interim coach last year after former head coach Derek Wahlstrom resigned. Ward previously served as the school's defensive coordinator since 2012.
The Arizona Cardinals presented Ward with a certificate and $2,000 check for the school's football program.