Critical Matchup calls for Cardinals to Shut Down Cowboys Offense
Cardinals to play in "Monday Night Football" Home Opener
The Arizona Cardinals (1-1) face the Dallas Cowboys (1-1) in the season home opener on Monday Night Football this week.  The Cardinals come off a 16-13 overtime win over the Indianapolis Colts, while the Cowboys look to recover after a 42-17 beating in Denver.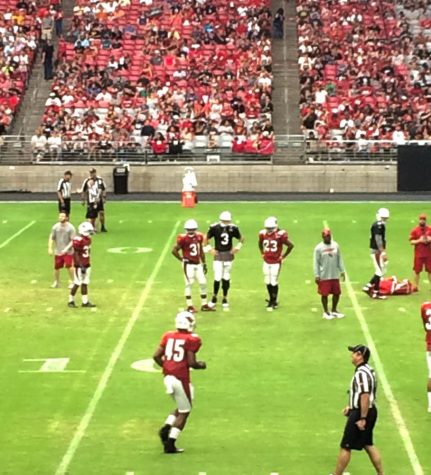 The Cardinals have struggled to awaken their passing game with QB Carson Palmer only having 2 TDs on the season. Palmer unpromisingly completed only 19 passes of his 36 attempts for a total of 332 yards against the Colts and was even blamed for offensive woes by head coach Bruce Arians. When meeting with the media the next day, Arians commended Palmer for his efforts.
"So, he did have another great finish to the game," Arians said as quoted by Arizona Sports. "He won the game. That third-and-20 was one for the ages and obviously the play right after."
The famous deep pass game showed promise after Palmer found TE Ifeanyi Momah for 46 yards early in the game and later connected with Jaron Brown for 22 yards on a critical third and 20 conversion in the fourth quarter.
"Carson's been taking a lot of the heat, but he's taking the heat because of us," TE Troy Niklas said as quoted in AZCentral. "It's all of us around him who need to get better. We need to give him more time out there and run a little bit better routes to give him more time and more opportunities to make the plays he can make."
Without superstar RB David Johnson who underwent wrist surgery this week, Palmer will need to return to his 2015 MVP caliber self and light up a Cowboys defense that struggled against a Broncos offense led by QB Trevor Siemian. With four interceptions already and an injury battered offensive line, Palmer will look to his offensive receiving weapons of Larry Fitzgerald, Nelson, and Brown to charge down the field.
Cowboys QB Dak Prescott will need to be stopped by a strong secondary led by six time Pro Bowl CB Patrick Peterson after 50 pass attempts on Sunday. The defense will need to be wary of Prescott whose ability to scramble out of the pocket to avoid pressure can make him dangerous. His agility led to six rushing touchdowns last season.
Arizona's OLB Chandler Jones, who had double-digit sacks last season, recorded two sacks against Brissett. If Jones can penetrate the offensive line that had trouble holding back Von Miller, the second-year sensations of Prescott and RB Ezekiel Elliott will be contained at the line of scrimmage. Elliott was held to only a nine-carry, eight-yard game by the Broncos defense.
The two teams have played 88 times in the regular and postseason, and the Cowboys lead the series with 55 wins. The two teams faced off in this year's Hall of Fame preseason game in which the starters sat out. Both teams want to rebound after a rocky start to the season.