A Warm Welcome to Dalton Jackson
Coming from Flagstaff to Buckeye can be a challenging move, and can also be quite the culture shock, but math teacher Dalton Jackson has already found himself adjusting to city life pretty quickly. Jackson was raised in Show Low, AZ, and later found himself moving to Flagstaff to live with his friend and roommate.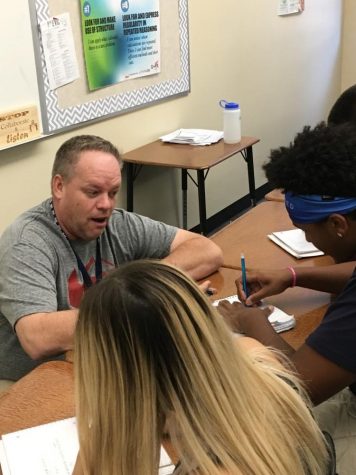 "I moved from Show Low to Flagstaff, and then moved here and kept my place in Flag," Jackson said. "I'm from Show Low Arizona, born-and-raised, and I love the state."
Jackson has been teaching for 20 years now, and taught at over 8 different schools all over Arizona, including: Mt. Elder Middle School, Show Low Junior High, Corbit Elementary, La Cima Middle School, Rio Vista Elementary, and Baboquivari High School. This year he is teaching Algebra I, Algebra II and Honors Geometry.
In Jackson's classes, he tries to be close with his students, and help them understand topics better in ways teenagers can understand better. In his classes, Jackson can be seen making jokes and pop culture references to make his classes more engaging for his students.
"Jackson's really cool, I like him a lot," junior Sierra Jones said. "He's really laid back, and gets along really well with his students."
Jackson was recruited to come to teach at Verrado this year, and has been impressed with his classes thus far. His students so far have been working hard to ace their tests and quizzes, and he has been helping them with tutoring.
"I wanted to teach math for the challenge," Jackson said. "Some days it's great; other days, it's challenging. It's the biggest challenge in education. But math isn't just for people who're good at math."
Jackson, being a teacher for over 20 years, has truly enjoyed teaching. Jackson started teaching because he loved working with kids and seeing them learn to figure things out. He enjoys seeing the "Ah-ha" moment when they work through problems.
"He tries really hard to connect with his students," junior Dikzzy Fernandez said. "He tries really hard to help his students too. He's a good teacher, really."