Brandon Watkins, the new Environmental Science Teacher
The new Environmental Science teacher is here and is ready for everything that comes at him. Married and with a kid, Brandon Watkins comes with a prepared attitude.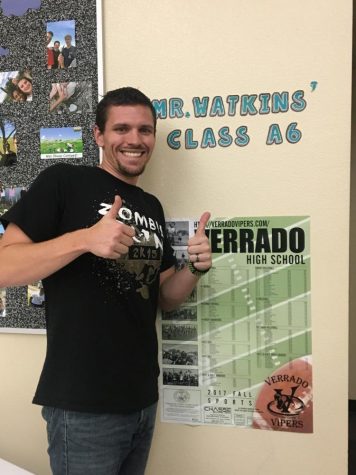 Watkins teaches Biology, Environmental Science, and AP Environmental Science and his class is located in room A6. He has been teaching since 2013 and plans to be a teacher for the next eight to ten years. Teaching wasn't initially his first job idea, though.
"I always wanted to be a vet," Watkins said. "Not that it didn't work out, but other things came into play allowing me to be a teacher, but I wouldn't change it."
The science teacher mentions that he got his masters in science at University of Arizona and has been interested in science since he was young.
"I always knew I was a nerd," Watkins said. "'Photosynthesis, I love this!' and the other kids were like, 'You're weird,' and I was like, 'I know!'"
Now that he is teaching, he has the ability to bond with his students about the things he loves to do. His students challenge him and he has fun with it.
"I like 'em, I like the difference between AP and general Environmental," Watkins said. "All offer different personalities that mesh well with who I am as a person."
In his school days, his favorite science class was agriculture and he if he had the chance to redo his school career he would, saying he "would give a crap."
"I really enjoyed biology," Watkins said. "Biology has changed so much in the 15-20 years since I was in school. Being a teacher to it is interesting to see the change of it over the years."
The environment has always been interesting to him, he remarks, and he fell in love with it when he came here.
"I've always had compassion for the environment and it always made sense," Watkins said. "I really enjoy the ad aspect of environmental science."