The Aspiring Fashionistas
The Fashion Club starts the year off with almost 50 members for the 2017-2018 year with an addition; the new sponsor on September 11 to guide the students.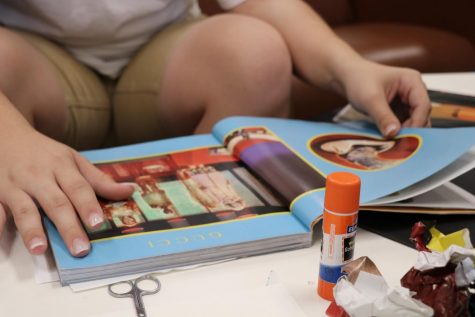 With a new sponsor in charge, it's a fresh start for The Fashion Club.
"I chose to be the fashion club sponsor because I love fashion," Bookstore Manager Anna Guerrero said. "I love everything there is about fashion and love being around students and hope to learn from them what the fashion club is all about."
The Fashion Club meets every Monday after school. The last meeting the club had on September 18 consisted of making mood boards in preparation for the fashion show in January 2018. Preparation is an essential for the club as they need to think of possible outfits, model castings, walk practices, and much more.
"My goal for this year is to make the fashion show a 1,000 times better than it was last year," Fashion Club President Hannah Shelton said. "I want the stage to be amped up with a runway and for every collection to be unique and bold."
In the Fashion Club, students can stand out with their outfits. Dressing a certain way can truly make a statement and stand out of the crowd.
"The way you dress can make you different from everyone else and be the one that stands out," Shelton said. "I've always seemed like the girl walking down the hall and she stands out because of her outfit."
The current members are promoting the club to everyone as it supports diversity and unity. As it wouldn't be as great for them if they were all the same.
"Others should join the Fashion Club because even if you aren't super into fashion there are other things to do," Senior Bobby Wentz said. "The Fashion Club is all about unity and diversity because all different types of people come to the club. It wouldn't be as fun if we were all the same."