The New Generation of iPhones
Released on September 22, 2017, the iPhone 8 promises a brand new way to take photos, augmented reality, and wireless charging. The new phone retails for $699.00 and $949.00 for the Plus version.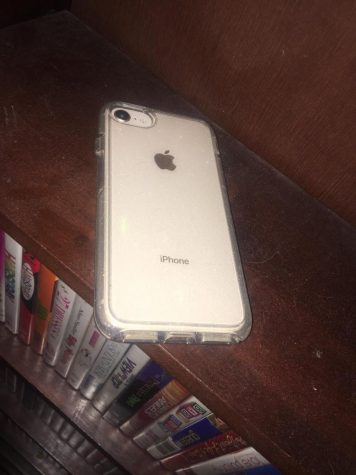 The iPhone 8's camera is more advanced than the previous iPhone and has multiple options for taking photos. This camera also has a True Tone aspect, which makes the white balance out in the photos taken by users. Lighting in the photos can be changed to a person's liking, making the phone even more personal.
"The camera is so nice," freshman Abby Noel said. "The pictures I take are actually HD, and I can edit them to look how I want."
It's new complete glass design makes the phone more sleek and durable. The entire phone is made of glass, and consumers have the option of either a silver, space gray or gold finish.
The iPhone 8 is also water and dust resistant for cleaning ease. Some may say that the glass design sounds like it would break easier, but this new design makes it more durable.
"The iPhone 8 is very similar to the iPhone 7," former student Summer Nordman said. "One of the really interesting things about it is that the back is glass and with that feature it makes me want to be more careful with it. Overall it's a really nice phone, but very similar to previous models."
With the new glass back, wireless charging is now easier. Though wireless everything has yet to happen, the new aspect of wireless charging creates a new outlook to a wireless future.
Along with these features, the new speaker increases volume up to 25%. The speakers are now located on the top of the screen and the bottom where the home button is.
The new chip in the iPhone is guaranteed to have more battery life and the GPU is 30% faster. The iPhone can now hold up to 64 GB of data with this new chip. This chip includes augmented reality apps and games to make the experience more entertaining.
"It actually feels like I have battery life now," junior Megan Lang said. "It's a lot better than the 7, I can finally have more apps and photos on my phone."
IOS 11 is included in the iPhone 8 and is a brand new way to view Apple. The new IOS is very different than the last IOS update. Siri can now be a personal translator, Apple Music is improved, and in the fall, money can be sent and received through messages.
With all these new improvements, the iPhone 8 provides a new experience with the iPhone. It has many things to offer with even more features to come with the upcoming iPhone X to be released on November 3, 2017.