Verrado Vipers Making a Comeback
Verrado's varsity volleyball Lady Vipers currently sit number one in the Desert West Region and twelfth in the state's 5A Conference. Although the team is ranked highly right now, the beginning of the season was a rough start for the girls.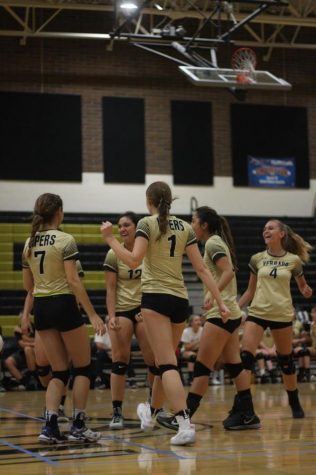 Coach Lussier is entering his second year as varsity coach but has coached a total of 6 years. The team has won 4 games and lost 6 games, but has 7 more before the season ends. One of the biggest struggles the team has faced has been the loss of two of their starters, Kiley Evans and Faith Buford, due to a concussion and a torn labrum, respectively.
Along with improving defensively, developing execution, and being more disciplined in practice, the main goal of the Lady Vipers is to make it to the state playoffs, which requires being ranked second or first in the region.
"I think we have a really good chance to be second and an outside chance of being first," Lussier said. "I think the only way we have been able to persevere to this point is the fact that the girls are so close. They all knew that we didn't have three of our starters and that eventually the talent would outweigh the challenges, so I think the way we've gotten through all this is just us being a really close group and not giving up, there's no give up on this team."
Teamwork is one of the team's biggest strengths. The bonds that girls have formed throughout the season so far have helped strengthen the team as they play together. One thing they could work on though, is their communication.
"The strengths of our team would be teamwork because we all work well together, but I would say the weaknesses would be communication on the court," senior middle Logan Elias said. "I think communication could really improve our play and help us win more games."
The team plans on improving communication and strategizing better by training hard and staying focused. By doing this, they may be able to reach their goal of going to state.
"There's been a lot of competition, but I think the girls have been working really hard this season," parent Stacy Bill said. "The girls could improve in games by working on talking on the court, training hard, staying focused, encouraging each other, and learning to strategize based on the teams they're playing,"
Overall, Viper volleyball has fought hard playing against difficult teams at the beginning of the season and plan to make a comeback in order to make it to state. Despite the rough start to their season, the team does not regret the struggles they had to face, as it taught them strategies for future games.
"We're actually very fortunate to play those harder teams at the beginning to learn from it, persevere, and then know what to expect on the backend of it because we're going to play really hard teams again," Lussier said. " I believe that from losing you learn a lot. You don't learn a ton from winning. We've had a rough road up to this point, but I think the girls can really see the light at the end of the tunnel."