DIVING INTO A BRAND NEW SEASON
This past August, the Verrado Swim and Dive team started a new season with a brand new coach. This was a big change to the Verrado team because with a new coach comes whole new way of doing things. For some, change is not always a good thing, but this team does not seem to mind.
New head coach, Jason Bourland, has been coaching high school swim for about nine years now. His swimming career all started at age twelve. From there he did club swim for over 15 years and eventually continued swimming through college at the University of Orange Coast.
"I went to Orange Coast College over in California," Head Coach Jason Bourland said. "I was actually recruited over at ASU and then I decided to swim for Orange Coast."
With all of Bourland's first-hand experience it was very easy for former coach, Denise Stewart, to hand her head coach position over. Although, with this change came a surprise to most. Some returning swimmer were not expecting a new coach this season.
¨Having a new coach my senior year was unexpected,¨ senior Victoria Warrum said. ¨Nevertheless, he is experienced and we have enjoyed this season with him so far.¨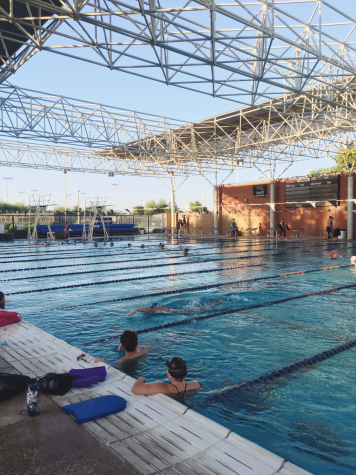 Athletes enjoy the environment and atmosphere that Coach Bourland has created thus far. Paloma Marolf shares that there are not any similarities between the coaches and have a very different way of doing things.
¨The differences from this year to last year is probably the mindset of the athletes,¨ junior Paloma Marolf said. ¨I feel as with the new coach everyone is more eager to prove themselves; show what they are capable of. Therefore, people are most interested in working hard and earning the A relay spot [most competitive relay].¨
While Coach Bourland may have a different way of doing things he has a vision for the future. He is happy with how the season has been going so far, with an undefeated record of 4-0. His new focus has shifted to creating a better team community between not only the swimmer but the divers as well.
¨I'm very comfortable with team, but I don´t think the team is very comfortable with me yet,¨ Coach Bourland said. ¨I really want to improve the community of the team by doing team bonding. I think it would really benefit the team and bring them together more.¨
Overall, new Coach Jason Bourland has received many compliments on this years season and athlete performance. Swimmers and divers enjoy the new addition to their team as well as the new direction and encouragement.