Pumpkin Spice Everything!
As the holidays approach, stores have begun to stock up on seasonal desserts; pumpkin flavored desserts to be specific. An example of a store participating in the recent pumpkin rave is Bashas on Main Street in Verrado.
"Our store carries a lot of the different pumpkin things," Bashas employee Casey Brooks said. "We usually keep them at the front of the store. And sometimes the pumpkin products are on sale, especially near the end of the seasons."
The pumpkin flavored desserts can be found in all varieties from, cookies, to pastries, even to chai teas. At the Bashas in Verrado, customers can find a selection of pastries, cookies, and the well known pumpkin pie.
With so many options and only so much money, it can be hard to decide what treat to purchase though.
In a recent poll, volunteers sampled two Bashas pumpkin desserts; Pumpkin cookies ($4.99) and Pumpkin Spice Danishes ($4.99).
"I like the cookie more! It has stronger pumpkin flavor," Verrado senior Hannah Shelton said. "It was one of the best pumpkin cookies I've ever had."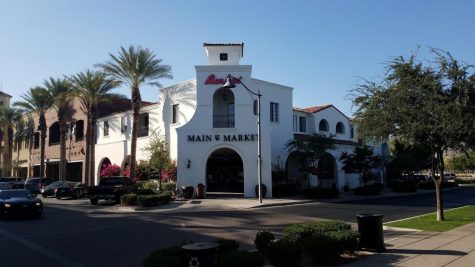 Thirty-five percent of those polled prefered the Pumpkin Cookies rather than the Pumpkin Spice Danish. Along with Shelton's reason, others said the cookie was perfectly sweet as well, and not overpowering.
"The danish was my favorite because it wasn't as dry as the cookie was," Verrado sophomore Logan Echeverria said. "It was also sweet.  I wish I could've had more."   
Sixty-five percent prefered the Pumpkin Spice danish over the Pumpkin cookie. According to the poll, the danish wasn't as dry, and it had a great combination of flavors with the pumpkin, icing, and spices.
After each participant of the poll finished the dessert, it was concluded that sixty percent would purchase the dessert, and forty would not.
"Yes, I would pay $4.99 for a pumpkin spice dessert," Verrado student Vanessa Garcia said. "I am obsessed with pumpkin spice desserts."  
"I wouldn't pay that much for the cookies," Verrado Junior Jordan Argano said. "I would for the danish though."
The polls also concluded that seventy-five percent of the poll group would recommend one or both of the treats, and the other twenty-five percent would not.
"I would recommend the pumpkin desserts to any pumpkin lover," Verrado senior Krysyan Edler said. "It makes the seasons more fun for a great price."  
"I wouldn't recommend the dessert because I am not a huge fan of pumpkin," said Verrado student Nalia Nordman. "I also don't think either are worth the price."
So whether a fan of pumpkin or not, 'tis the season of falling leaves, warm drinks, big sweaters, and all the pumpkin spice you can handle!