New Season, New Fall Decor Ideas
Upcycled book pumpkins spice up decorating
The fall season is under way even if the Arizona weather is unaware of the change of season. Scarecrows and pumpkins can be seen outside decorating homes. Creating handmade decor such as these upcycled book pumpkins from the blog Sagebrush Ridge can add a twist to the usual mundane decorating routine.  
Upcycling and repurposing projects are taking the crafting world by storm which is evident in projects like the ever popular pallet art. These pumpkins are the perfect way to reuse those old thick books from past English classes.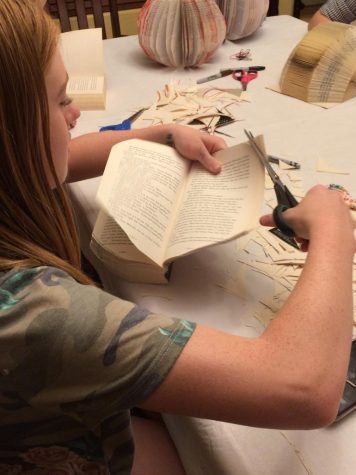 "It's a fun Halloween craft if you like these sort of things," sophomore Jayla Fox said. "[It is a] Good way to reuse old books."
Do-it-yourself projects can be found for anything now days. Whether it be home decor or storage hacks, more Americans have decided to try their hand with their own handmade projects.
"I like doing it," Fox said. "It's time consuming. You appreciate [the decorations] more. It's also cheaper."
The pumpkins are made by cutting the pages of the book turning the straight pages and covers into the round sides of a pumpkin. The key to this project is time. A pair of scissors can only cut through so many pages at a time. Depending on the size of book used more time could be spent cutting.
"Make sure you take your time so you don't get lumps or cut a hole in your pumpkin," freshman Nevaeh Roth said. "It's very time consuming but very fun. It's definitely worth it."
After cutting a little super glue to join the front and back covers together expands the book into a fully rounded pumpkin. A twig placed in the center of the pumpkin with the help of some more super glue creates a tiny rustic stem jutting out.
Craft projects like are great way to spend time with friends and to be creative together. Everyone leaves with their pumpkin as physical reminder of the laughter shared.
"The camaraderie is fun," Angle said. "It's fun if you do it with a group. You just need to get a good playlist going."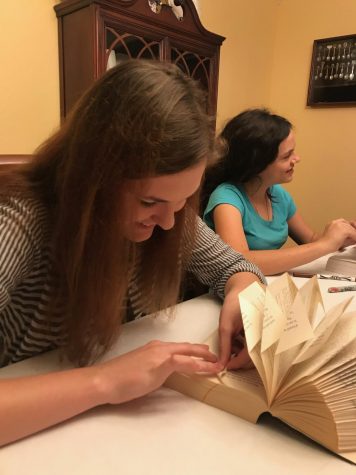 Thinking outside of the box, or rather the pumpkin, can add a twist to the upcycling craft. The trend of book folding art can replace the process of cutting the book's pages.
"I knew that folding the pages would puff up the pumpkin," senior Rachel Angle said. "Also it wouldn't create as big of a mess."
Creativity requires patience. While the process of making these pumpkins is quite time consuming, the results are well worth it in the end.
"It's tedious but fun," sophomore Emily White said. "Get comfortable because you'll be here for a long time."