A New Morning Hot Spot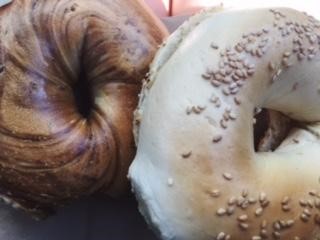 For all the bagel lovers out there in the West Valley lies a little hidden gem, Hot Bagels and Deli. Hot Bagels offers all your favorite bagel options from savory to sweet, using only the best and freshest ingredients. Locals have nothing but great things to say about Hot Bagels, it's surprising that it is not more well known.
"It was the best bagel I have ever had," Verrado High School senior Riley Morton said. "It was so warm and fluffy. If you want a good bagel that is affordable [$2.50 per bagel], I highly recommend Hot Bagels and Deli."
Hot Bagels offers an endless range of every kind of bagel and bagel sandwich.  They even have a rainbow bagel that seems to be a fan favorite as it sells out almost every morning. Even employee, Eric Whittington, prefers Hot Bagels over any other competing company.
"To form our bagels we drop them in the boiler," Hot Bagels and Deli employee, Eric Whittington, said. "It's what makes them pop unlike Einstein's Bagels [competing bagel company]. That's the only way to do it."

Whittington, has been working at hot bagels since they opened last year. He loves the friendly vibe and family atmosphere that Hot Bagels gives, which is proven by many locals.
"Right when you walk you in, you are greeted with a friendly face," local Rebecca Argano said. " It almost felt like an old school Italian deli. I was reluctant in the beginning to even order a bagel because I am not a huge bagel fan. After the first bite, I could not get enough and ended up eating the whole thing."
Hot Bagels and Deli is enjoying a growing fan base in the community they serve. The convenient location near the new Fry's Marketplace provides a lot of foot traffic which is always good for their bottom line. The family owned business looks forward to seeing new patrons soon, with the daily hours being from 5:30 a.m. to 4:00 p.m.