Just Keep Swimming
Ready. Take your mark. BEEP. From the moment Jadan Nabor stepped into the water at age four, the pool became his second home.
It was not until he was 11 years-old that Nabor decided he wanted to start club swim, and ever since then swimming continued to stay in the picture. Now a sophomore, Nabor has competed all around the United States and just took first place at the 2017 High School States Championships in the 100 yard butterfly event.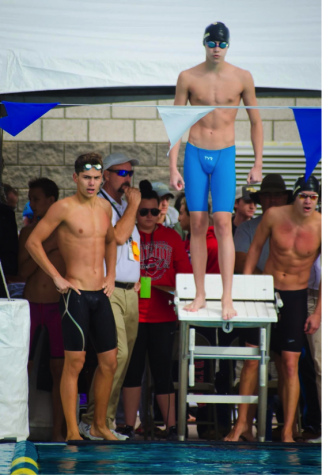 "Right now I can definitely see myself swimming in college," sophomore Jadan Nabor said. "It has been a goal and aspiration for a long time now. It would be a dream come true to get a swim scholarship to Stanford."
As of right now, the road to success is looking bright for Nabor. His current coach, Darian Townsend, an Olympic Gold medalist, strongly believes in Nabor's talent and drive to go to a Division 1 school.
"I have been coaching Jadan full time for 11 months," Olympic Coach, Darian Townsend said. "I have seen Jadan mature both in the water and out of the water. He has become all around more professional as an athlete since I started working with him. He has definitely focused on the getting stronger out of the water and the results of the strength gains, can be seen in the best times he has got."
It is going to take a lot of persistence and determination to obtain the goals that Nabor and his coach have set for him, but they are certainly not impossible. Having a supportive team is equally important to an athlete's goals, especially in such an individual sport. It is important for them to learn and to grow from one another, just as sophomore Kian Walls, one of Nabor's teammates has.
"It's nice to have Jadan on my team because we have bonded a lot and we are like brothers to each other," sophomore Kian Walls said. "When we get competitive it only makes each other better and smarter, we watch each other and share good sportsmanship before and after races, it [their competitiveness] makes us into better swimmers as well."
Not only has the competitiveness of Nabor and Walls motivated them to become physically stronger in the water, it has improved their character outside of the pool.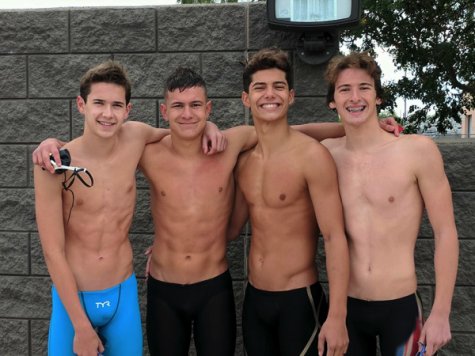 "Swim has for sure left a positive impact on my life and I couldn't see myself doing anything else," Nabor said. "If it wasn't for swim I don't think I would have the mindset I have right now. Swim has given me a strong work ethic and kept me focused on the things that are important."
The journey has only begun for swimmer Jadan Nabor, but wherever his career takes him, swim will always have a place in his heart.