Fries Before Guys
Fluffy, golden brown and crisp on the outside with a side of ketchup. French fries are a modern phenomenon that millions continue to drool over on a day-to-day basis. However, what really is considered the perfect french fry?
"The perfect fry consists of the perfect balance of soft and crispy," sophomore Michael Chestnut said. "It has a nice snap when you first bite into it, but surprises you with a beautiful fluffy inside. The fry doesn't come plain on its own; it has its own unique seasoning and salty taste."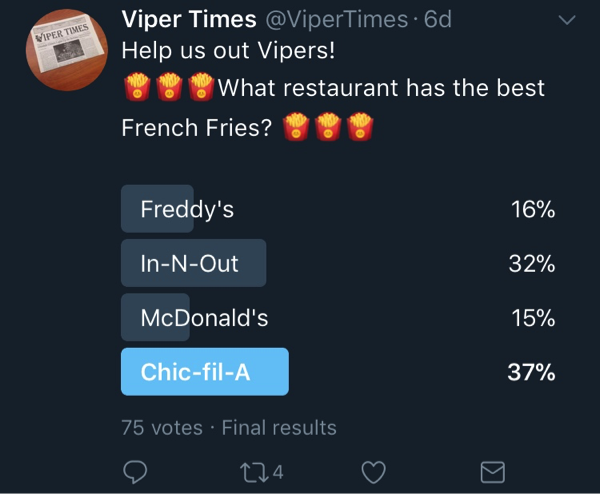 The Viper Times Twitter page, @ViperTimes, took matter into its own hands and ran a recent twitter poll asking students which restaurant they thought had the best fries: Freddy's, In-N-Out, McDonalds, or Chick-fil-a. The poll ran for two days and received 75 responses with Chick-fil-a fries taking a surprising victory.
"I like In-N-Out for a good normal fry, however, I prefer Chick-fil-a fries better because of the way they are cut [waffle style]," junior Robbie Ostwinkle said. "I feel like Chick-fil-a takes more pride in the quality of their fries and I really appreciate that."  
While it may be hard to resist the famous Chick-fil-a waffle fries, others rave about the not so famous, Freddy's.
"Freddy's by far takes the lead," Chestnut said. "Not only do their fries have great seasoning, you get a lot of them, for a great price.  The seasoning taste like no other fry to me, it's so original. It 100% stands out."
While Chick-fil-a and Freddy's do have amazing and original fries, it is a surprise that the west coast hot spot, In-N-Out, did not take the lead.
"In-N-Out is the best out of all of those [the poll options] because they make them right in front of you," Verrado resident, Jim Schwartz said. "You know and are guaranteed that you will be receiving fresh cut fries, no matter what. I also like that you are able to salt them yourself because some places put too much salt and it makes eating the fries unenjoyable. Whoever chose any of the other options besides In-N-Out, needs a reality check."
From the results, it seems the search for the perfect fry continues. Who knew that french fries could be such a controversial topic?