It's Beginning to Look a Lot Like Christmas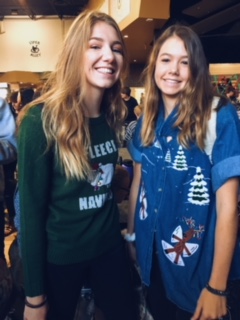 The countdown to Christmas has begun and so have the days until finals week. To lighten the mood and bring in some holiday cheer, Student Government is hosting their annual winter spirit week in honor of, not only the upcoming holidays, but the schools winter sports as well.
This spirit week was held from December 4 through December 8 with an end of the semester pep-assembly on Friday. Vipers were prepared to strut their ugliest christmas sweater, coziest pajamas, winter sports gear, their favorite holiday character and some Viper Pride that week.
"I don't always participate in spirit week, but this spirit week is pretty easy," junior Hannah Hinton said. "I like spirit weeks when I already have all of the clothes; but I do not like them when they are very specific themes, and I would have to go out and buy clothes."
Every spirit week offers something different and what's offered may or may not be suited for everyone. Student Government tries to make each day diverse enough for everyone to be able to participate in one way or another.
"A lot of students say they don't have the stuff when it's right there [in your home]," head of pep assembly committee and StuGo member Kaleb Lundie said. "All you have to do is look a tiny bit harder. Definitely keep an open mind on what you wanna wear. You may have a lot of something and a little of something else, so it's best to keep an open mind. Being in Student Government we all have to dress up every spirit day, so improvising, asking friends or family, and goodwill running is like second nature to us."
Spirit week is a time to show your appreciation for your school and the community within it. It is fun to let loose and enjoy the festivities that is high school. Weeks like these only last 4 years, so it's better to take advantage of them while you can.
"The school has about 4-5 spirit weeks," Student Government sponsor Mrs. Lauren Owens said. "This year we had one at the beginning of the year, homecoming, winter sports, and then next semester will be: hoopcoming and prom. The seniors begged for more this year because they want to be "spirited."'
After this week, Student Government will only be hosting two more spirit weeks, so you don't want to miss out.  Post your photos on twitter with the hashtag #VHSholidayspirit to enter for a chance to win some prizes. A student at each grade level will be picked, so get your Christmas on.