Verrado Middle Presents the Stinky Cheese Man Play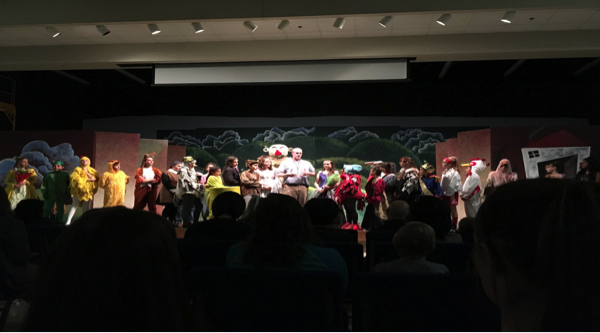 As the fall season comes to an end, the students and teachers at Verrado Middle prepare for the showing of their winter play, The Stinky Cheese Man and Other Fairly Stupid Tales. The whole play wasn't only the Verrado Middle School theatre department's production, but also the volunteers who helped with painting the set and making the unique costumes. Through some struggles and help from many volunteers, the show will go on to be great for all.
"The play's costume designer did an outstanding job," freshman Sara Whitmire said. "It was incredible to see the costumes such as the giant who had arm extensions with functioning hands."
The play was an adaptation from a children's book written in 1992 by the author Jon Scieszka and illustrated by Lane Smith. The director at Verrado Middle School got the inspiration to do this play from how many different interpretations there are of the book in play form, and he loved the charm that the book had.
"I have always loved the book," Del Rosso said. "Lane Smith, the illustrator of the book, is brilliant. I read the script and thought it was very funny; it's a good adaptation. I also thought it would provide a bunch of meaningful parts to many different kinds of student performers."
The whole theatre department at VMS put in a lot of effort to make this play the best it could be by enlisting help from volunteers to paint the set, costume designers, and asking a high schooler, junior Amanda Heimbuck, to help out when some of the actors left before the performance.
"Well, it was very different to go back to the exact stage and theatre room where I found my voice," junior Amanda Heimbuck said. "In middle school I was very shy and was afraid to speak in front of a group of people. After I performed in The Best Christmas Pageant Ever and Into the Woods Jr., I found that I enjoyed being heard, so now, performing in that same place, brings back wonderful memories and makes me feel good about helping out."  
The play is showing from November 30 to December 3, and tickets at the door are $5. VMS also does a program called sponsor a star where you can buy your favorite characters treats for doing well in their performance. As the play draws in more people, the actors get more accustomed to acting in front of large audiences, and it continuously raises hopes for the next performance.
"My hope for every cast is that they realize that the hard work pays off, " Del Rosso said. "I hope that the cast realizes that the audiences always respond well to those that care deeply about the craft, and that they are enjoying themselves while respecting the material."