Hour of Code: Programming the World's Future
Global Computer Education movement makes its Verrado debut
Promoting the importance of computer science, Verrado's Future Business Leaders of America sponsored the school's first Hour of Code. In collaboration with the computer science courses, the first year club is making coding available to all students as part of their community outreach project.
The hour long event was part of Code.org's global event, Computer Education Week. Hour of Code provides students with the opportunity to learn basic coding principles which are used in the technology of the present and the future. The projects created in the Hour of Code can be sent to celebrities like Steph Curry and Russell Wilson in attempt to win the chance to video chat with that celebrity.
"So he [Hadi Partovi, founder of Code.org] started this thing called Hour of Code to try to get students to sit down at a computer and just try coding," FBLA advisor and computer science teacher Ms. Lisa Schroer said. "He as well as others have developed accessible ways for students to program in able to have success programing in a short amount of time with the idea of 'hey try it you might like it.' Hour of Code is a way to expose students to the subject hoping that it opens their eyes. That it's not as hard as they think it is, and it's something that they might actually enjoy."
For the first year of computer science offered at Verrado, students are already taking advantage of the opportunities offered to them through the course. Students have made personal websites and video games.
"I find it fun," computer science student, senior Danny Nguyen said. "The joy from computer science is being able to go from nothing and build something such as the Internet or a video game. The possibilities are endless with computer science. Students should take computer science because they may not think it's important, but now days, how the industry and economy are going, computer science will become a valuable asset to them no matter what career they'll go into."
Coding is how the world goes round now. As technology continues to expand, the need for coders increases as well. Corporations have even joined the push to encourage students.
"Right now there are self-driving cars driving around Arizona," Schroer said. "The code is obviously needed to drive the self-driving car. I just had a friend that had surgery done by a surgical robot. So clearly there was code. There is code down to make that robot do the surgery. I saw in agriculture that one of the things that they are trying to design is robots to pick crops that are sensitive enough to pick crops from trees or from the ground. I don't think you can think of an industry including education that won't be affected by technology."
The role that technology holds in society creates a higher demand for coders. While some careers and aspects of society will remain constant, change is inevitable.
"Coding will be the future," computer science student, senior Matthew McCaskill said. "We'll always have sports. We'll always have teachers. We'll always have forms of art, but slowly certain careers like financial, bank management, and even some teaching are getting phased out in place of computers, artificial intelligence, [and] machine learning."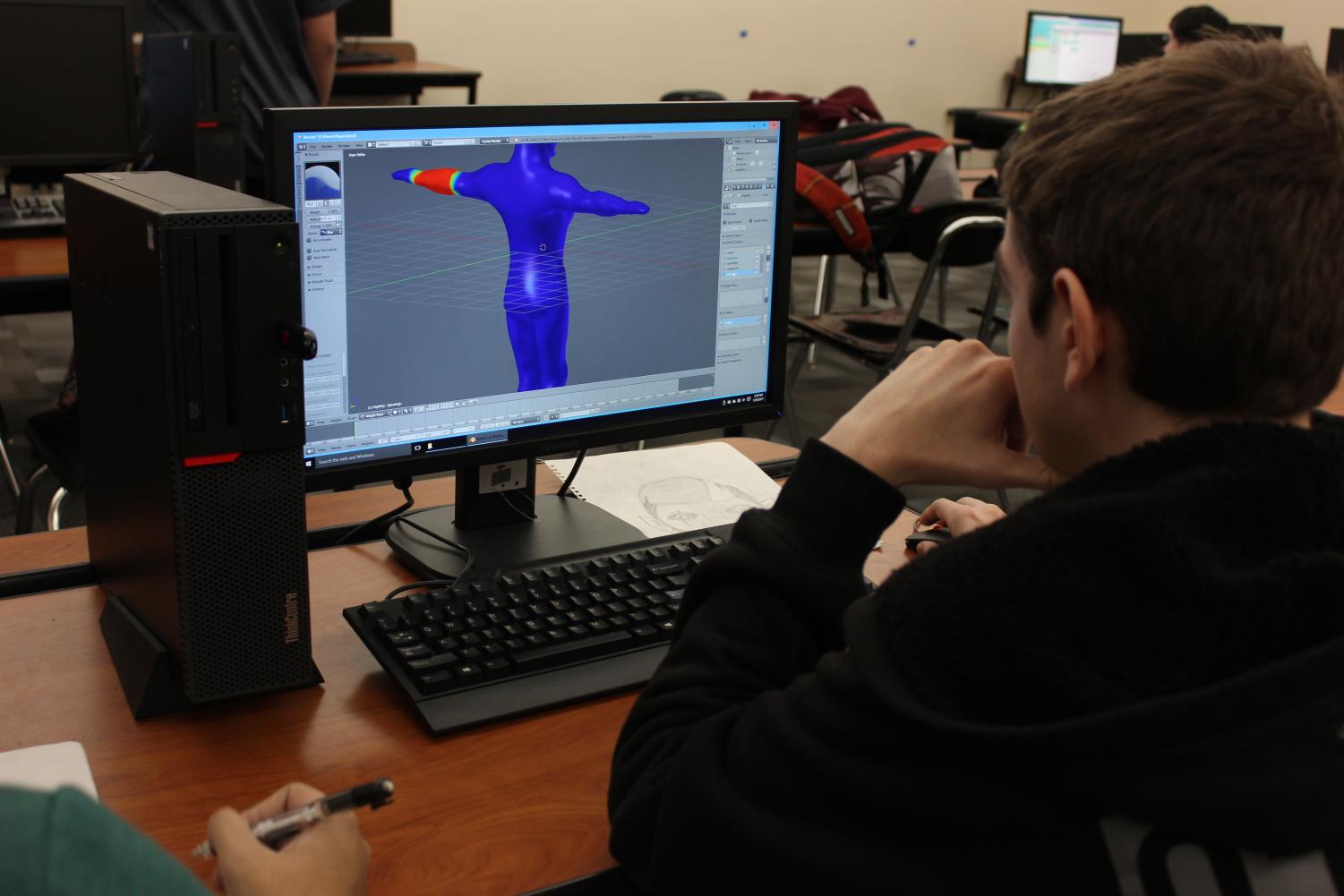 Students are the future of coding the technology that will shape the future, and that is the reasoning behind the computer science movement at schools throughout the world. It's importance has finally been realized as it has made it's transition to the educational system, with programs starting at kindergarten and classes and clubs already being offered in local elementary schools. Verrado's FBLA has been working with elementary schools as mentors as they promote computer science.
"Certain states have substituted computer science as a foreign language requirement," Schroer said. "It can very much be thought of as a language, and I think that is a really good analogy. Even if you don't want to do that as your full time job being comfortable with how it works and the background of it is something that I think that every student should be exposed to."
While originally wary of it at first, sophomore John Escobar tried coding for the first time Wednesday as a participant in the Hour of Code. He too has fallen victim to the addicting appeal of coding.
"I honestly thought it would more complicated, but it's fun to mess around with the controls," sophomore John Escobar said. "I think I might start doing that [coding]. I think a lot of us need to know how it works. We use technology all of the time, and it is important to understand it."
For those interested in coding and not enrolled in the computer science courses or who happened to miss the Hour of Code event, there are still ways to get involved with coding. Khan Academy and Code Academy offer free curriculum for aspiring coders. Students will learn that coding is more than algorithms but a method to fulfill dreams and express creativity.
"I think it's fun because I get to play around with my computer [and] push it to its limits, that's not an exaggeration," McCaskill said. "I can just make anything that I want and build systems that haven't been implemented before or improve on existing systems. [I'm] making things that I've only dreamed of into a reality and not many people can say that."