When Tragedy Strikes, a Community Unites
One Verrado Spirit Shines After Tragic Accident
While Verrado junior Dylan Miller recovers in the hospital after suffering a serious injury from a car accident, the community that loves him has united together. In the wake of this tragic accident, the school and community rally behind the beloved Viper as they send their love and support to him and his family.
Similar to any tragic event, students have been quick to show their support for Miller. The hashtag #prayfordylan has flooded various social media platforms. Many students and members of the community have even visited the hospital.
"I think Dylan would be in awe," senior Blake Spear said. "He might notice right now that people are praying for him, but when he finally wakes up, he'll realize how many people were there for him. I think he'll get emotion. There's probably thousands and thousands of people that are helping him. There's so much that has come from this accident. Dylan would just be in awe."
StuGo has been instrumental in this outreach to the Miller family. During Friday's pep assembly, StuGo gave the student body paper signs with Miller's jersey number, 11, to raise in support of their classmate.
"The assembly was wonderful," varsity football coach Tom Ward said. "StuGo did great with it and with all of the signs up. I just give credit to StuGo for making it so amazing, and they're doing a great job."
Solemnity and love could be felt throughout the school in the days following the accident; thoughts of Dylan were in the back of everyone's mind. The love that has been felt and shown should not be a one time action though. The reaction from the student body embodies the ideal of "One World, One Verrado" that the school strives to promote.
"One of ours is hurting," Ward said. "The parents are hurting. It's in the community of Verrado, and anytime something like this happens, it's important that the community comes together to support the family. The family is who we need to support right now because they're the ones that are hurting, and his close friends are hurting; we just need to gather together and support them."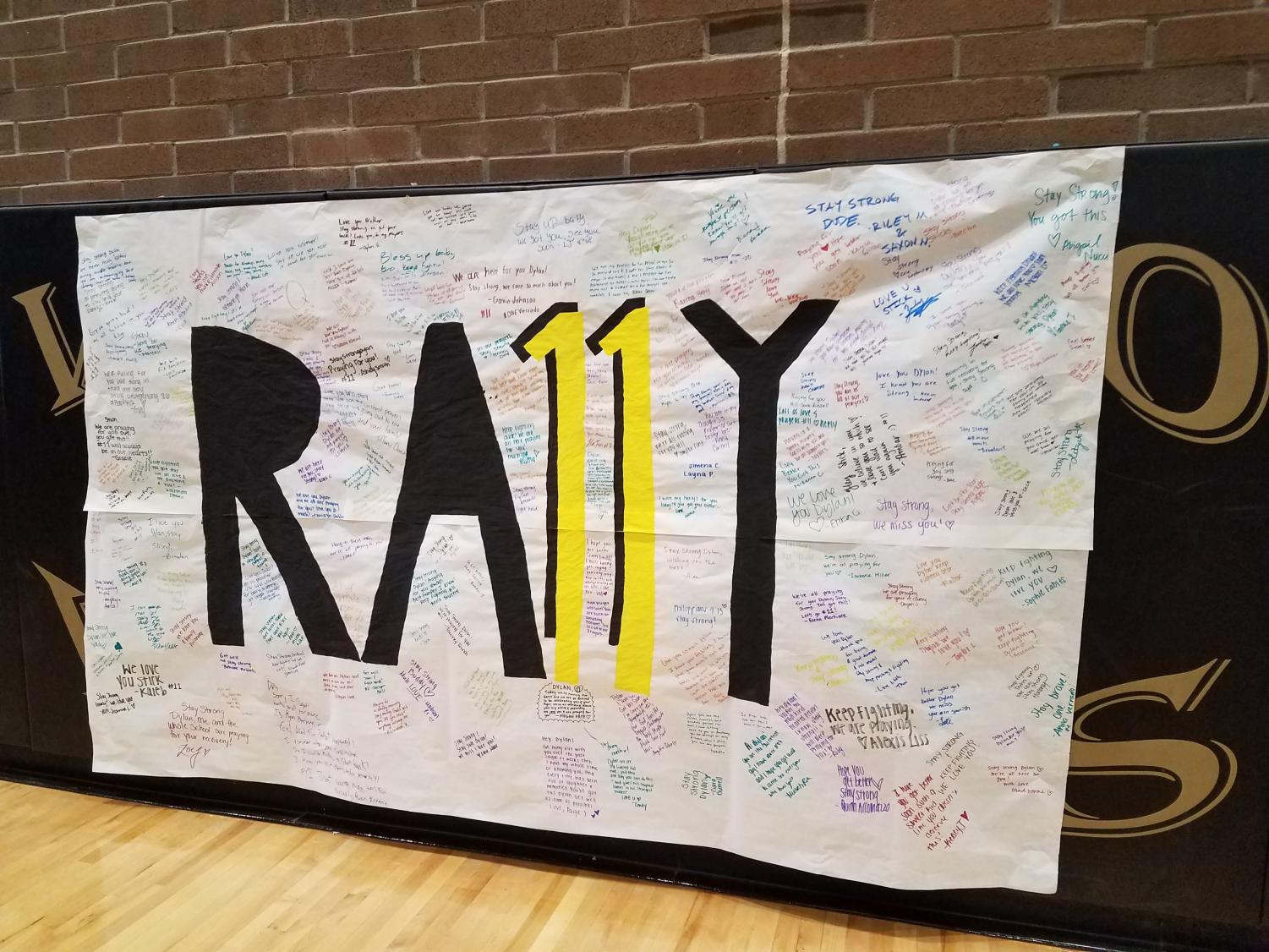 This display of love should continue. Vipers should remember to be kind to those that seem insensitive or that fail to understand the gravity of the situation.
"Some people tend to be more dramatic while some tend to be more inward in their feelings," school psychologist Ms. Claudia Weiss said. "There is no one reaction. There is no appropriate reaction. You're going to feel different things at different times, so just giving them the pass that it's okay if you're not feeling anything right now. It's okay if you're overwhelmed right now. There is no wrong way to grieve and to deal with this stress and trauma."
For those that have not yet had the opportunity to get to know Dylan, those that know him rave about his good character. They say that he leaves a lasting impact on everyone he meets. Dylan is more than a football player and student.
"As a football player, he played varsity as a junior, potentially to be one of our better players next year as a receiver," Ward said. "As a football player he is ideal to coach. He is very coachable, and he is very much a team player. I think as a player and a student he isn't much different. He wants to learn. He's the type of student and player that all coaches and teachers would like to have in the classroom. As good as he is as a student and player, he's a much better person. He's an unbelievable person. He's just a great individual. He has a high moral character. He's what I call a character guy with integrity, compassion, and empathy for people; he's just that kind of person."
That good character that Miller is known for is evident in his actions. His selflessness is a quality greatly admired by his peers. That same spirit of service and love has spread throughout the school this past week.
"He's going to be an Eagle Scout," Spear said. "I was actually waiting to do my award ceremony with him because we did the same project together, just in different areas. We painted fire hydrants for the Goodyear Make a Difference Day. I did 76, and he did 50 or so; but he ran out of paint. He continued it another day, and he did another 40 or so. He's got such a bright spirit. Dylan has always been kind-hearted to everyone. He doesn't hate anyone. On the football team, everyone liked his presence there. He was just a mood changer. If the room was sad and gloomy, he would always make it bright and happy."
In support of his friend, Spear organized a group prayer for students during their lunches. The support of Miller's classmates was evident as they exercised their love and faith for the sake of his recovery.
"I had a feeling that the school was going to be gloomy," Spear said. "It wasn't going to be the same. A lot of people were touched by Dylan and what he's gone through and how much of a great person he is. I felt like I needed to bring the community together in a crisis like this with the crash happening. It turned out well with between 150 to 200 people at each prayer, and I did three for each lunch. And I did do a fourth after A lunch because some people had missed it. Everyone thanks me for it, but I just give that thanks up to God because that's where the prayers are going."
The support from Miller's Verrado family is still needed. For those that wish to support the Miller family in their time of need, a YouChange.org fundraiser has been set up for those that wish to donate. StuGo will also be sponsoring  the Miracle For Miller event on Sunday, December 17, from 5 to 8 p.m. at Verrado High School that will include a visit from Santa Claus, a toy drive, and a monetary donation collection for the Dylan Miller scholarship.
"I think it's important for the school to unite because everyone is hurting, grieving, worried, and stressed out," Weiss said. "The healthiest way to deal with that is to get those feelings out on the table and work through them and that is best done in groups: groups of friends, classes, all of the different communities that we are a part of. That's how we get through life, through the support of our community."