Bust a Move
Five, six, seven, eight.
This week Verrado Dance is hosting their annual winter dance show on Wednesday, December 13 through Friday, December 15. This show will be featuring all styles of dance, including: Contemporary, Modern, Jazz, Tap, Hip-Hop, Ballroom and Ballet. There's something for everyone, and you are not going to want to miss out.
Since the beginning of the semester, dance students have been working diligently in and outside of school for this show specifically. A lot of effort has been put toward making this show the best it could possibly be.
"We've been practicing since August, so the beginning of the school year," dance teacher Ms. Jessica Buchanan said. "We did some across the floor stuff and then technique as well as repetition. They also have before and after school practice everyday."
This is only Ms. Buchanan's second year teaching dance here at Verrado, and the success of the show continues to improve each time. Now the Verrado dance concerts are a school wide event that most of the student body looks forward to every year.
The pressures of wanting to put on an amazing performance are enhanced when friends and family are sitting in the audience. Lots of practice is put into this show from every student, especially those who are in performance dance. Putting in work is just as demanding outside of school as it is inside of school.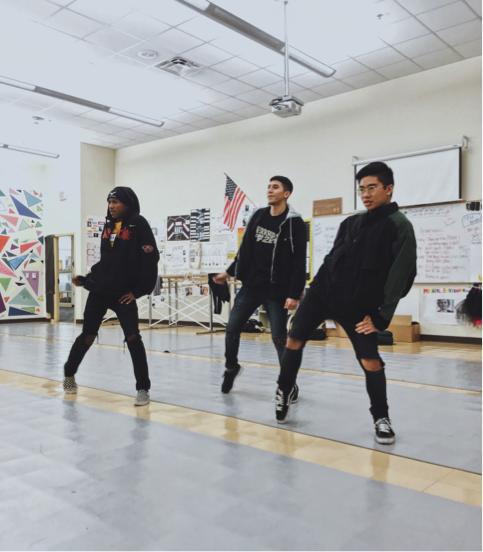 "To prepare for the dance show, we have been rehearsing everyday for about four months," senior Hanna Tassin said. "I stretch everyday and also go to Crossfit to make sure I'm in the best shape I can be for when I perform. I've been dancing for the school since I was a freshman on the pom team and a junior in the Verrado dance program. This year has been different because I am a senior, and I have take on the leadership role for the younger dancers. I know this is my last year to dance at Verrado, and I have to make the most of all my time here."
There are a variety of ways each dancer prepares for shows and competitions.  School and studio dancer, Valentina Marcano, has a more mental approach to how she "rehearses" on her own time.
"I have personally prepared myself for the shows this week by listening to all the songs for each of my dances every day, marking through my dances often, and most importantly, getting lots of sleep," sophomore Valentina Marcano said. "Without rest, my adrenaline and energy will not be at the level I want it to be. Dancing for the school is different than dancing for a studio because it is less competitive. Studio requires a lot more dedication towards competition and convention classes, while school is more to grasp knowledge and choreography. My favorite part about dancing for the school is definitely how many friendships that I've gotten. They have grown into strong bonds as if we were brothers and sisters. I love my performance dance class."
With the dance show already underway, dancers have buckled down on their routines and choreography; making sure everything is precise and perfect. The countdown is on. Make sure to come out and support Vipers. You can purchase pre-sale tickets in the book store, prices go up at the door. Hope to see you there.