The Registration Chaos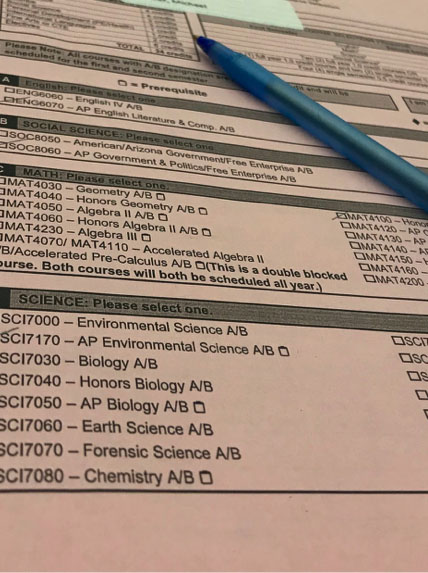 Registration is happening right now for the upcoming rigorous senior year, and juniors are contemplating what classes to choose and what's best for their transcript.
The counselors are busy bees this whole week as they just began registration for the 2018-2019 year on December 5, 2017. The soon-to-be seniors are preparing themselves for what's about to come.
"We just did our current juniors last week, and the forms were due this past Wednesday," D-Wing Counselor Ashley Pigusch said. "We got a pretty good amount back, but for the students who did not turn it in can turn it into their counselor or to their advisory teacher after break."
The week of registration for counselors seemed to go smoothly. The current juniors followed instructions and got most of their registration papers in.
"It was good; the kids knew what classes they wanted to pick," Pigusch said. "They followed the instructions well. I think it went really well."
Junior Justin Farinas has chosen his classes already and is ecstatic about the coming year. He hopes to excel in his final year of high school.
"I just chose my classes, and I hope I did the right choice," junior Justin Farinas said. "I'm very excited for senior year; I'm sure I will be just fine. My goal is to excel throughout the senior year."
While the registration process was not difficult, it has its flaws such as the credits that should be taken early.
"It was easy enough. I think they should elaborate more on what credits you should take early on rather than waiting, but the process isn't terrible," junior Noah Weber said. "I hope my senior year classes will effectively help me transition into college courses. I tried to choose classes best for my transcript. Although, I do regret picking AP classes for the most part because I could have taken lower level and had a higher GPA which is apparently more useful."
Registration is also coming for freshmen and sophomores after winter break. Freshmen and sophomores should take courses they can handle and that are needed for the university level.
"Try to have an idea of majors and jobs for after high school that you'd be interested in, so that while you're here you can take some classes that might align with those," Pigusch said. "High school is free. There might be a class fee but you're not paying 1,300 dollars for a class a semester as you would in college, so you're getting that exposure before going into that secondary path without having to pay for it."