STEMCon 7.0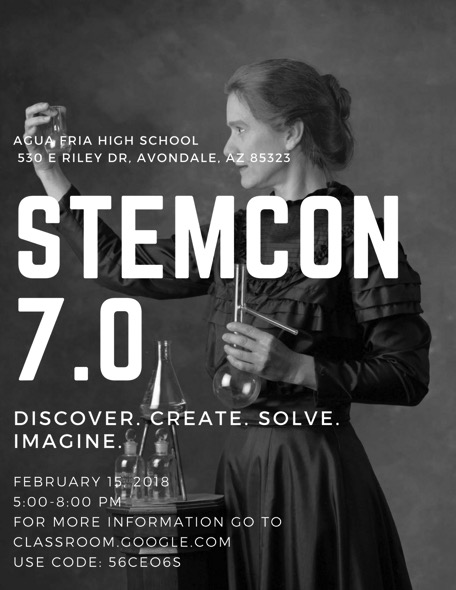 On February 15, students from the Agua Fria Union High School District will meet at Agua Fria High School from 5 to 8 p.m. to compete for prizes of up to 3000 dollars, gift cards, and other products at 2018's STEMCon 7.0. People have the opportunity to come participate in raffles and competitions for no extra charge.
STEMCon 7.0 is an event put on by the STEM [Science, Technology, Engineering and Mathematics] program where students present their STEM projects to professional judges and compete for prizes and extra credit offered by teachers. For those not competing, there will be the AZ Science Center, food trucks, vendors, Special Olympics, and other activities.
"I had never heard about STEMCon until this year, but it seems like a well put together competition," sophomore Logan Lunt said. "The event seems family-friendly with all the extra activities there are to do that include everyone because even if you aren't competing, there's still stuff for you to do. I think by going to STEMCon 7.0, people can have a good time and even get inspired by the work of other people"
Students who have a particular interest in science look forward to the event and hope to participate in the event that allows them to express their ideas. Not only does it allow them to share their creations, but it rewards them for their hard work.
"I think STEMCon sounds like a very exciting event, and I plan on attending it," junior Tom Kauffman said. "I didn't make a project this year, but I want to do one next year because it seems like a great opportunity to express your creativity and then earn prizes for sharing something you worked hard to accomplish. I love science, so it's something that really interests me; and I definitely plan on going to see what other students put together this year."
There are many benefits to engaging in this event. Those benefits include gaining real world experience, discovering potential interests in science, and developing problem-solving skills.
"Some of the benefits of participating in STEMCon are allowing yourself to get some more real world experience in science," chemistry teacher Jacqueline Lewis said. "It's a less structured experience because you can use your own problem solving skills and interests to apply your knowledge and really get into the thick of what science really is. It makes you a more well-rounded student to be able to do something like that on your own, not only that, but it can help spark your interest in something that could lead to a future career."
The program is providing buses to those who do not have a ride to the event. Make sure to stop by and check out the STEM projects put together by the district's students and to participate in the other competitions offered.

Hang on for a minute...we're trying to find some more stories you might like.