The Perfect Place to Satisfy Your Pizza Craving: Marco's Pizza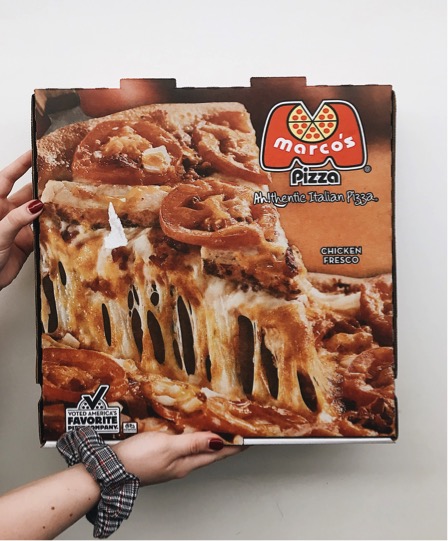 Marco's Pizza, located on Estrella Parkway, is the perfect place to stop and pick up food if you are craving a fresh slice of pizza. Provided hot and ready out of the oven, Marco's Pizza offers a great variety of foods ranging from pizza, to salads, to sub sandwiches, along with multiple sides and desserts.
This authentic pizza place has just opened a new location in Surprise on February 3, making it easier to pick up a pizza due to its close proximity. As people have discovered and tasted the various menu options, they have noted the balance of components on their pizza and recommend it over other pizza places.
"The crust is fluffy, and it has the perfect amount of cheese, which gives it a more elaborate taste," substitute teacher Gerrit Groenewold said.  "It is definitely better than most of the fast chain pizza chains that offer hot and ready, but at the same time it is fast and casual. I would one-hundred percent recommend it to other people, and I plan on going there to try more toppings."
In contrast, some find the pizza to be of average quality and do not see it as anything spectacular, but the cheesey bread remains a hit. Despite their lack in satisfaction, they still find interest in trying different options on the menu.
"I don't know if it's the first pizza place I would recommend, but it definitely wasn't bad," junior Sailor Dereadt said. "The pizza is pretty good but heavy on the sauce and really greasy. The crust was a little dry but it wasn't too bad; I've had better pizza, so it's average. The cheesy bread was super good, and I liked the parmesan sprinkle; but it didn't blow me away. If I went again, I would like to try the CinnaSquares because I've had them at other places and always thought they were really good. "
A number of students work at Marco's Pizza and enjoy the job as they get to work with their classmates. Not only do they get to work amongst friends, but they are also able to learn new skills as they work.
"I enjoy working at Marco's Pizza because I work with people I go to school with and get to learn new skills," Marco's Pizza employee and Verrado senior Olivia Sparks said. "I like being able to make pizzas, but doing it with familiar friends makes it even better. I would definitely recommend Marco's Pizza to people because the pizza is very good and everything is cooked fresh."
Despite the varying opinions on the quality of their pizza, Marco's Pizza offers many options that are bound to satisfy anyone's cravings. This authentic pizza place proves to be a new interest and a casual means to pick up dinner on the way home from work.