Pastry Review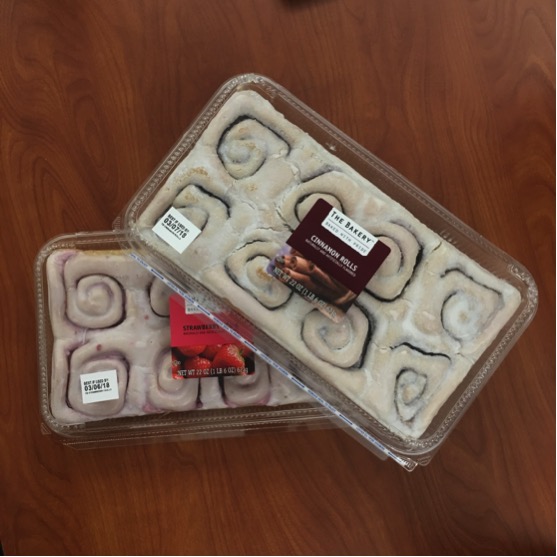 The Bakery brand of pastries from Walmart is now offering cinnamon rolls.  The newest addition to the store's shelves come in two flavors: cinnamon and strawberry. The sweet treat is a perfect selection for a quick breakfast fix! They could also be a nice way to end your meal as a small dessert.
Both flavors have their own qualities that deem them as delicious. The strawberry was my personal favorite. There was icing coating the top of the roll and some strawberry jam was incorporated in the roll itself. Others disagreed and were not too big of fans of the strawberry flavor.
"The strawberry ones were really sweet; it was overwhelming," senior Krysyan Edler said. "I liked the plain cinnamon roll better because it wasn't too sweet. The strawberry just had too much jam in the center."
One of the most noticeable traits of the rolls were how moist they were. Store bought pastries can be a risk to purchase as they are often stale or dense. These rolls proved that connotation wrong.
"I liked how moist the rolls were," sophomore Kelly Luong said. "The icing wasn't runny, but at the same time it was not too hard either.  The jam that both flavors had in the center were delicious and helped keep the rolls moist I think."
There are a lot of different types of cinnamon rolls. Ranging from the Cinnabon brand often found in malls, to homemade ones.
"I prefer Cinnabon rolls most I think," junior Diana Gomez said. "These were pretty good but I don't know if I would go out of my way to purchase them. The mall ones are just gigantic and really tasty. I could eat those any day."
It seems like most people do prefer Cinnabon rolls most, but others had their own thoughts.
"I think homemade cinnamon rolls are the best way to go, especially fresh out of the oven," Edler said. "Then you can add as much icing as you want."
Overall Walmart's new cinnamon rolls, both the strawberry and cinnamon flavor, were yummy! They were not anything too noteworthy, but they weren't bad. They may not be the first recommendation that would come to mind, but I would suggest them to a pal to try.

Hang on for a minute...we're trying to find some more stories you might like.