VHS Promotes Planned Homecoming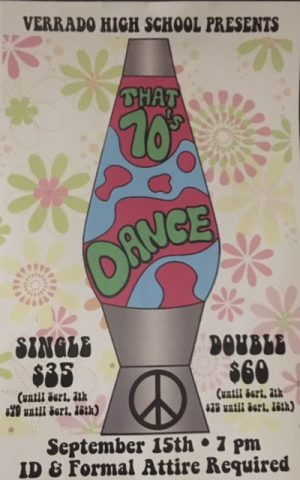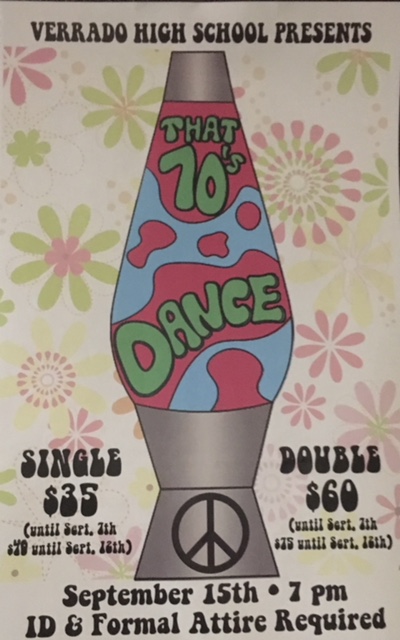 At a coffee shop, in the middle of June, VHS StuGo was brainstorming ideas for their high school's 2018 Homecoming dance. According to Student Body President Elisa Chen, the conversation went off topic, and up came the TV series, "That 70's Show". Chen said this then became the theme for VHS's 2018 Homecoming.
Chen and Stugo Treasurer Kiley Evans said that this year students should expect karaoke, movies, snacks, a photobooth, and to have tons of fun. Decorations are all 1970's themed, including lava lamps. "It's a good mix for everybody," Evans said.  
As far as the perfect homecoming outfit for this dance is concerned, Chen said that StuGo "really wanted to advertise that the theme isn't actually 70's–it's based off of the show!"
"It will be different than all other homecomings–different feeling, vibe," Chen said. "It's nothing we have ever done before."
Evans said the new Homecoming t-shirts will arrive next week. "Three different designs can be purchased in the bookstore," she said, "They should cost $10 each $15 for two."
Chen said students should choose from the variety of shirts, to fit their own style and personality, all of the shirts are really different.
"Upperclassmen are invested and really into the spirit." Evans said, "Have fun!"
Evans also said that she is excited to see how it all comes together, and that there is something during homecoming for everyone. Chen added  there is always great satisfaction for StuGo that all this work was done in one month.
Vipers outside of SuGo also say they are ready for Homecoming Week. Freshman Gabriela Lopez is excited to be with friends, and Freshman Gonna Medrano expects it to be "better than middle school".
"I hope to see the teachers involved," Senior Kaitlyn Mitchell said.
In addition to Homecoming Week themes, StuGo is also organizing a Parade and Block Party to accompany the Homecoming game. The parade will feature football players on a float.
"Watch out for all the captains of the football team," Chen said. "Cody Miller, Titan Widjaja, Jimmy Richardson, Lateef Hampton, and Jonathon Parks. Football is planning on a really cool float, so I'm excited to see that. We have crazy ideas for block party."