Verrado Introduces New Schedule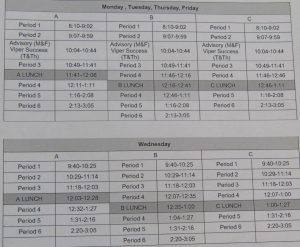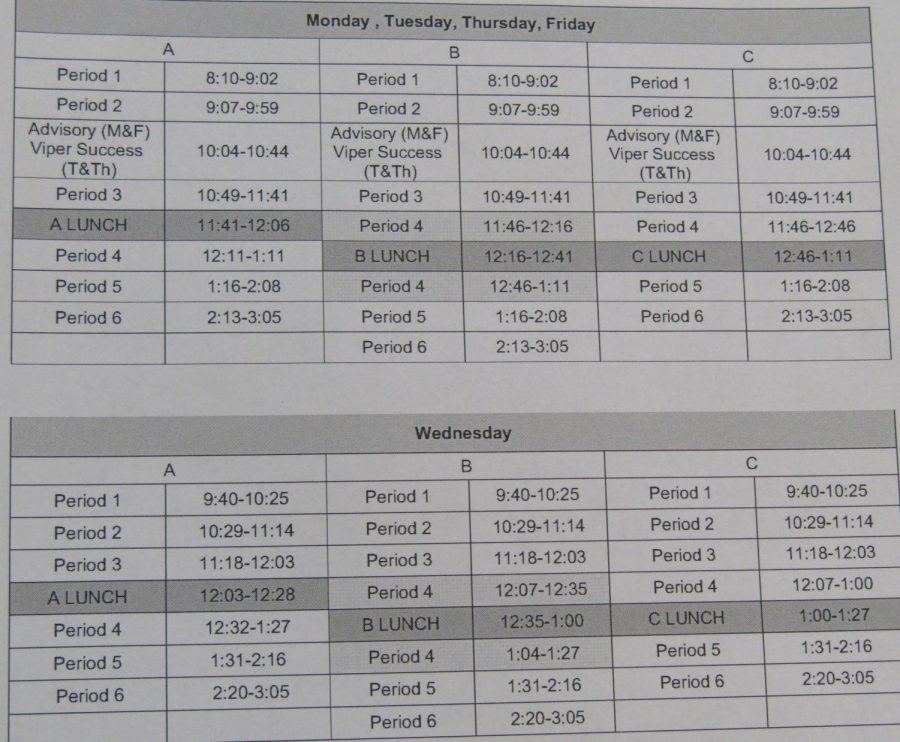 Bryn Benjamin
Verrado High School's Wednesday schedule was changed this academic year when other schools in Agua Fria School District had many new teachers hired, that needed to be fit into their existing schedules.
"The schedule was changed when the teachers took a survey as a whole district to vote for next year's schedule." English teacher Rochelle Russell said. "All schools in the district had over 20 new hires per campus."
Because of those new hirees, there wasn't enough room in the schedules to fit the classes those teachers taught in.
"The district also discussed on having Wednesday be either early release or late start." says Russell. "Late start won…based on the results from the survey, traditional school was the most popular."
Traditional schools are schools that stress about academic mastery in the core subjects–reading, math, and history, and have those classes meet every day. According to Russell, not all teachers might have realized what balancing six daily classes would look like.
This new schedule has caused teachers to change their lesson planning, and this has made some weekly tasks more difficult, according to Social Studies teacher Erin Eisen.
"I feel I over plan, I feel rushed. I haven't figured out forty minutes yet, it's like an internal pacing." Eisen said concerning the Wednesday short classes. "My classes have gone from 90 minutes to 60, to 52 to now 40, it's a lot of adjustment. Its enough time to get student driven work done or a quiz. Certain things can be done you just have to find them."
However, Eisen said she would prefer one shortened day to two longer late start days.
"I'd much rather have the one short day than two longer late starts. Last year's schedule was bad, the classes were too long. I would underplan and would not have enough to do, now I can overplan".
There are students at VHS who appreciate the schedule. Freshman Rowan Newmeyer, said the Wednesday schedule is very beneficial.
"I like it better than the other weekdays." Newmeyer said. "I get to wake up late and there's no Viper Success."
Viper Success is a new twice-weekly college preparatory program the school has begun doing this year.
Freshman Amelia Keech said she liked how the classes were shorter than on the other four days.
Based on the schedule, classes are only 45 minutes, whereas, during other days of the week, classes are 52 minutes.
Senior Naiyana Barkman said that the new schedule comes with some issues because of these short passing periods and classes.
"We need time to go to the bathroom and pack our stuff up, and the halls are so crowded." Barkman said. "It feels like a lesson plan got cut out of our classes".
"It's the other days that the teachers are trying to adjust as it is another lesson to need to do in the schedule." Russell said. "Studies have shown that having ELO or Viper Success makes the students' scores go up. The lessons for Viper Success are beneficial for all students if they take it seriously. The teachers are also trying to adjust with the two Advisory days rather than having it just once a week."