Verrado Schedule Switches to Shorter Lunches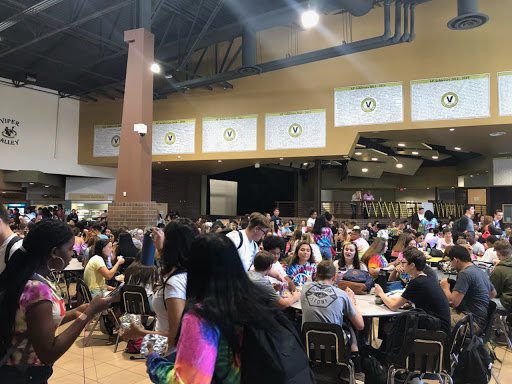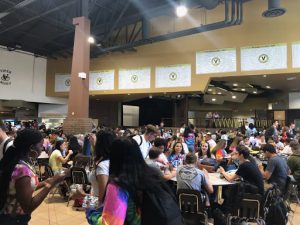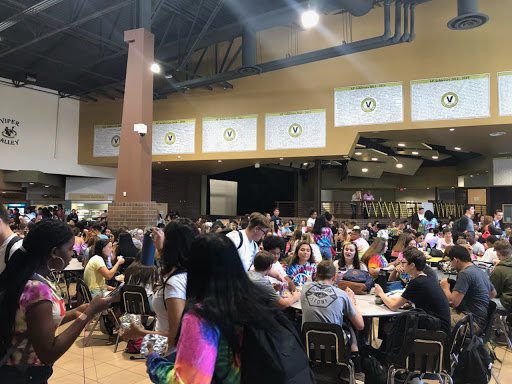 As of August 7th, 2018, Verrado High School has a 25 minute lunch period. Students and teachers have had the new schedule for about five weeks now.
Mallorie Cramer, sophomore at verrado said that the apparent time restraint on lunches results in people running out of time to eat or waiting in long lines. Leslie Saulsby, VHS assistant principal, spoke on the schedule and explained that lunch really didn't change that much. "[Lunches are] close to the same amount of minutes" he said "It seems more truncated due to other additions and changes to the schedule".
While the time students and teachers have to eat might not have changed by that many minutes, students and teachers say they  are running into problems with the schedule. Camille Jackson, a VHS math teacher, said that she does not like the new schedule because she doesn't have any time to get all her tasks done.  
"I do not like the shorter lunch, because I do not have the opportunity to observe other classrooms," she said. "Or discuss my content with other teachers outside our weekly meetings." Jackson also said the lunch times are necessary because there are so many students in the school but it is difficult for her to find time to accommodate everyone with a 30 minute lunch.
Cramer explained that she buys her lunch from the cafeteria each day  and said "I barely have enough time to wait in the long lines to buy lunch and go eat it".
Saulsby, however, feels the majority of  students have adequate time to eat. "The time may be an issue for a very small group," he said. "But most students have enough time to eat and find a seat."
Saulsby says the schedule change is due to a newly scheduled daily enrichment program called Viper Success. Cramer explained that she is not fond of this new schedule and its changes because "lunch is so short I rarely have time to eat".
"The lunch time is difficult to get use to.  I feel we need Viper Success to assist students during the day with the core subject skills because many students lack the foundations we use daily to build upon," Jackson said "We also need to catch the students that may have been absent for previous lessons, and not all students are able to stay after-school or come in early to get assistance."
Saulsby explains that there may possibly be a change in schedule next year, even with the addition of Viper Success. "There is a chance we could go to two lunches, but that depends on our enrollment," he said "Viper Success is here to stay".