Verrado High Launches Viper Success Program
Viper Success is a new program that meets twice a week at Verrado High School to help students improve skills for school and life, such as note-taking, organization, and time management. The program, created by VHS assistant principal Gretchen Hann, launched this year and takes place on Tuesdays and Thursdays.
Viper Success was created to improve student's study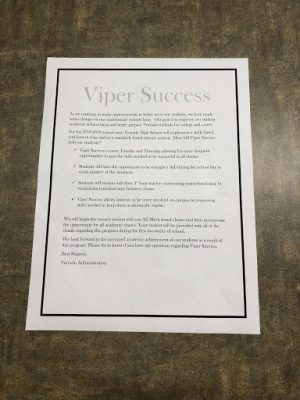 skills and learning techniques in school and at home. Viper Success is also used to help students who need extra guidance in class obtain the lessons they need. Students will have the chance to learn important tools to use throughout their lives.  
The creator of Viper Success, principal Gretchen Hann, invented the program with hopes of students learning how to be successful during and after high school. "I did a lot of research from careers and colleges on what they expect kids coming to college to know," Hann said. She came up with Viper Success while visiting other schools in the East Valley, and noticed they were doing a similar daily program.
"We want to make sure that every kid, regardless of the teacher, is getting the same instruction," Hann said. She asked students over the summer what skills they would like to learn that they didn't already know. Some kids said organization and typing. Some said they didn't know how to take notes or apply to scholarships. Viper Success, Hann said, is the solution to students having and knowing these skills.
Kristin James, a science teacher at VHS said she teaches her students 21st century skills, organization, stress management and technology use during the new program. "Viper Success gives students an opportunity to learn skills they can use outside of high school," James said. She added that if students actively engage in Viper Success, they will greatly benefit. "Once students accept and participate in Viper Success," James said, "They gain skills they would never get in other academic courses."
Jocelyn Barron, a sophomore at VHS, has been enrolled in Viper Success for five weeks now. Barron said, "One skill I want to improve is taking more organized notes." Barron added she hopes to learn other study skills in Viper Success.