Student Government Prepares for Pep Rally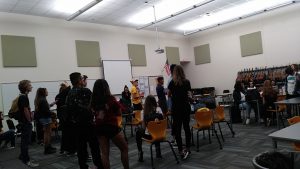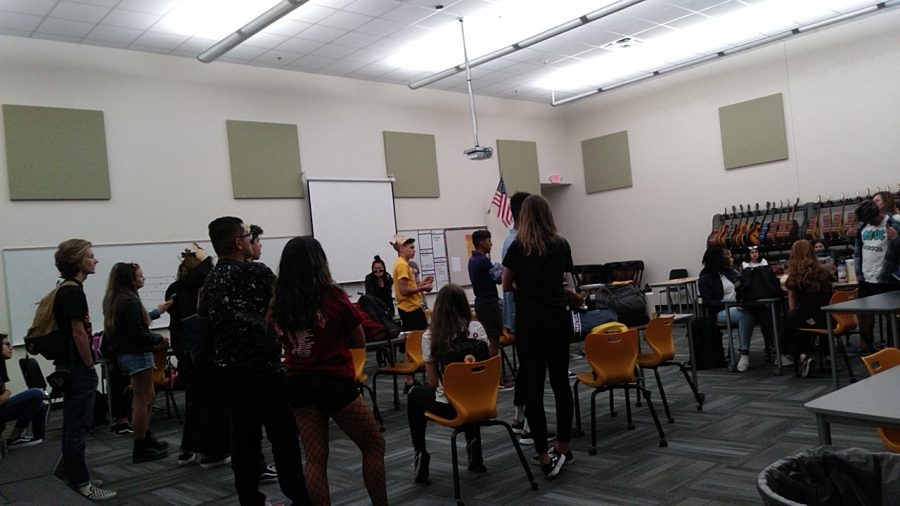 Before almost every home football and basketball game, or seasonal events like Homecoming, Verrado High School's StuGo hosts a pep rally. These pep rallies are meant to boost school spirit, and StuGo hopes that they will bring clubs, sports, and students all around the school together.
However, these pep rallies don't just happen in a week. According to senior Kaleb Lundie, one of the main student advisors in the rallies, the pep rallies take months on end to prepare. Lundie said that StuGo has to make sure they involve all of the clubs and sports, and talk to administration about what they're planning on doing–all while filling out paperwork and bouncing different ideas off one another.
Elisa Chen, a senior and the President of StuGo, says that the ideas they use are based around trying to make the school environment a positive atmosphere that everyone will enjoy.
As part of that, StuGo has to make sure that the scheduling of the pep rally doesn't interfere with a game, and they also have to give teams of performers, such as dance, time to plan their choreography.
For this upcoming pep rally, one of the activities that StuGo is planning to have is a relay race. Chen and Lundie say that they think it's something that will be fun and involve all clubs, sports, and students, but still keep the interest of everyone because it's unusual.
The relay race, while fun and unique, is also low-cost. The funding for the pep rallies isn't very high, according to StuGo- Elisa Chen says she would guess that they get a budget of around 50 dollars per rally, and maybe up to 70 if they really need it for their planned activities.
She says they're able to keep their cost down by reusing decorations, and they only buy the decorations that they can't reuse, such as balloons and streamers.
It isn't just the students helping with pep rallies, though. Elisa Chen said that there are four main teachers that help during the pep rallies: Elyse Spiegel and Sabrina Mata, who are the sponsors for StuGo, Jessica Buchanan, who assists with the music and sound system, and Tracy Meldrum, who helps with anything involving the band. Chen and Lundie said that they try to have band at all of their pep rallies.
The next pep rally is coming up on Friday, September 14, to get the school in spirit for their Homecoming game and dance.