Verrado's Football Program Prepares for New Season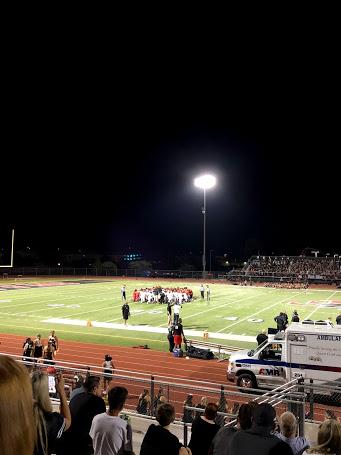 Ever since the Arizona 2018-2019 football season began this August, Verrado's Football team has been preparing for their games ahead.The VHS team started their season on August 17, with a current 1-2 record and with hopes to win their homecoming game against Campo Verde on Friday, September 14.
According to Alexis Cacciamani, a member of the Verrado Pom team, students and players are all excited for the Friday Night Lights season.
"We all look forward to the season," Cacciamani said, "We get to travel and cheer at all of the games. It really is our favorite time of year."  Both the Cheer and Pom teams travel with the varsity football team to their away games.
According to Cacciamani, sports are popular among the student body. Students look forward to the football season, where they dress up in themes for each Varsity game–like White Out, Camo, and Purge Night . Students around the school participate in home games in the Viper Pit, where students sing chants and cheer on the boys.
Last year, the Varsity team finished the year with a record of 10-3, losing against Marana High School in the first round of playoffs. Robert Liss, a member of last year's team, started his freshman year dressing out as the backup kicker for Verrado. He is now a junior starting for the Verrado Vipers, responsible for field goals and kickoffs. Blake Gamez also dressed out his freshman year on Varsity, as a backup tight end, and Gamez is now starting on offensive line as a junior.
Over the summer, the football team travelled to camps in Colorado and California to prepare for this year. "We had several practices everyday," Gamez said. "We would bond as a team and play in scrimmages. We all looked forward to the upcoming 2018-2019 season."
According to Liss, the Football team is looking forward to grow and benefit as a team and as individuals . "I'm excited about going out there and being consistent," Liss said. "Last year I had an almost perfect year on FGs and PATs, so this year I am mostly focused on getting my kickoffs out of the endzone."
The team's next game is September 14, 2018."We play Campo Verde for our homecoming game, which I know the whole team is excited for," Liss said. "It's a tough schedule this year, but we are a tough team to beat."