Pop-Up Shop
Verrado Students Create Currency, Online Marketplaces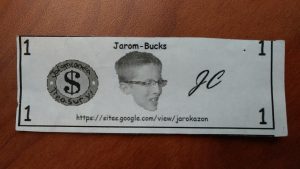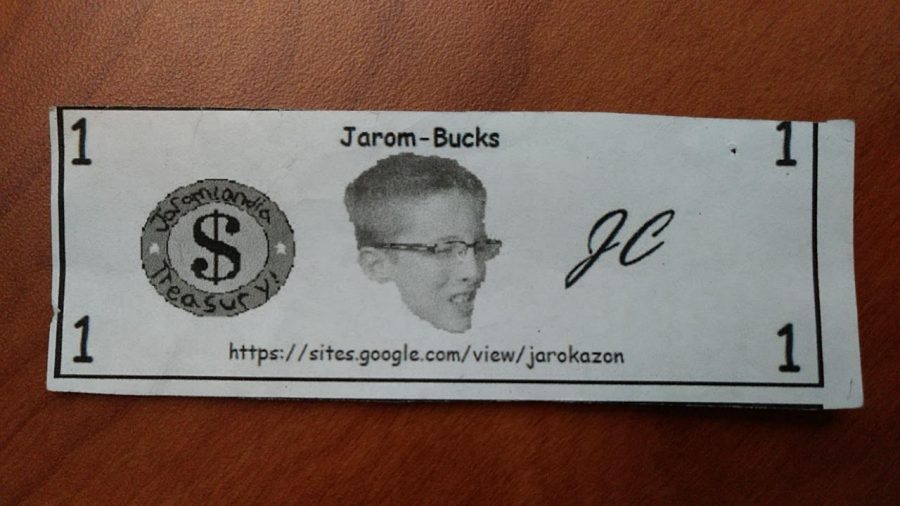 In some corners of Verrado High School, people are preparing for Homecoming and Spirit Week. In others, people are creating micro-economies.
Jarom Cluff and Dario Marengo have spent the last 3 weeks building on a form of currency they co-created called the "Jarom Buck." This imitation dollar started when Jarom Cluff found that he had "pictures of Dario… tons of them" and he wanted a creative way to gift them to Marengo. He gave them as a gift in an envelope, intended as a parody of Amazon.com.
Then, they expanded on the gifting of pictures idea- resulting in the Jarom Buck, featuring a photograph of Cluff, and eventually their own website, "Jarokazon". The name is a mix of Amazon and Jarok.
Cluff said that 'Jarok' is his lawyer name, and it's a mix of 'Barack Obama' and 'Jarom'.
Eventually, Cluff said that he and Marengo would like to get "a ton of people involved in Jarom Bucks; in the economy," and essentially, they wanted to make something fun when they first designed the currency. Marengo added that they also wanted to build "a micro-economy" in the process.
Right now, they sell a variety of items on Jarokazon, describing their merchandise as "fun, unique, priceless, and creative." These goods include origami,, art that Cluff drew "poorly" in MS paint, and help with websites–particularly through their own banking website, Mangoco.
These goods are sold for a variety of prices, their price ranging from 5-30 Jarom Bucks, depending on the item.
If someone doesn't have enough Jarom Bucks for something, there are many ways to get some. If they talk to Cluff, they get 10 bucks for free. If they refer friends to the store, they get 3 Jarom Bucks for every friend referred. Marengo says that they can also take out a loan on his connected banking website, Mangoco, and "if you would like to get in on the economy, start your own business."
They also just give the Jarom Bucks out for free sometimes.
They say that their online store is different from others because it's economically untraditional, and it "runs off a completely different economy" than the rest of the USA. Along with that, it sells items that they "don't think any other store would sell."
In the long run, they hope that their economy, the Jarom Bucks, will last beyond their time at Verrado High School. They'll be graduating this year, and they say that even if it only lasts one year beyond them they'll be happy.
They also hope that, eventually, everyone in Verrado High School will use Jarom Bucks, and use them and value them like a dollar.
If you would like to take a visit to their sites, the web pages are accessible at: https://sites.google.com/view/jarokazon (Jarokazon)
https://sites.google.com/view/jarokslawyerwebsite/home (Jarok Obama's Website)
https://sites.google.com/aguafria.org/mangoco/home (Law Firm & Real Estate Agency)
https://sites.google.com/aguafria.org/maddiesartcommissions/home (Art Commissions)
(Note: all sites deal solely in Jarom Bucks)