Fall Fashion at Verrado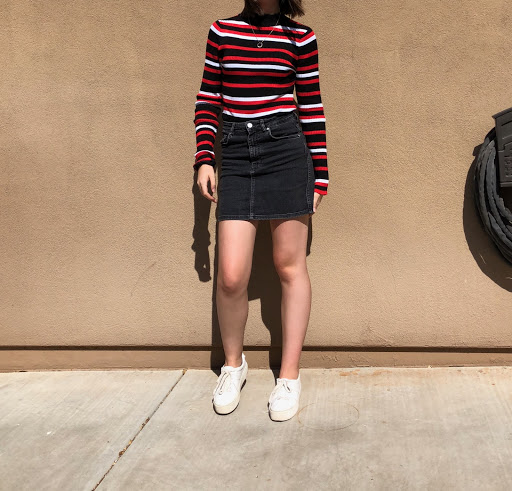 Summer is almost at an end, and the weather is finally cooling down. That means shorts and short sleeves won't work out this fall. This summer, people created new trends or brought back the iconic trends from the past for the warmer months. Styles were mixed and matched. Now, the start of a cooler season can spice things up a bit and bring more unique styles that will fit for fall.
Arizona may not be the coldest state, but people can still put the season into fashion. There are many fashion enthusiasts at Verrado High School who've come up with their own styles.
10th grader, Annika Hurst, tries to come to school with something trendy every day. "Something that inspires the way I dress is the 90's throwback style," Hurst said, "I am also inspired by models such as Summer Mckeen."  According to Hurst, throwback 90's and 50's styles have become fairly popular this fall and many teens have wanted to try them.
There are also many ways to incorporate colors into those trends that fit this time of year. Maroon, olive green, orange and many other different colors can help spice up outfits.
Hannah Parkin, a 10th grader at school loves to try out  such colors. "I wear a lot of army greens in the fall and off like classic burnt oranges," Parkin said, "I think they pair nicely."  Parkin loves all the colors for fall and said she is ready to zest up her outfits for this time of the year.
Many people also have wanted to try new trends and bring new styles into fashion.  More people want to make known other things that they like and how they should be more popular. Emily Alfay, an 11th grader in Fashion Club talks about her opinion in an underrated fashion trends. "I think that ruffles should totally be more prominent in fashion," Alfay said, "I feel like they can look good on anyone and it alone can spice up an outfit so much!" Alfay also feels that platform shoes should become more known this year.
Another student, Cullen Fabits, has his own favorite fall-specific fashion. "My favorite trend right now is definitely plaid pants." Fabits said, "They work well with any solid color, and it's a safe choice."