Netflix Documentary "Quincy" Reveals The Good, The Bad, And The Ugly of Famous Producer Quincy Jones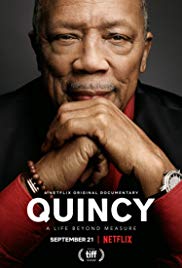 In Netflix's 2018 documentary Quincy, viewers first see the many accomplishments of music mogul Quincy Jones, including the albums that he produced and the Grammys that he won. On one wall, the lyric sheets to the well known song, We Are The World, are framed and signed by all of the musicians shown in the music video benefitting USA For Africa. Another wall shows a huge plaque of Michael Jackson's Thriller album, and how many times that album went platinum–30, to date.
Later in the documentary, Jones shares personal stories about significant people in his life like Frank Sinatra. As Jones' career expanded, he arranged for films such as The Pawn Broker, Truman Capote's In Cold Blood, Ironside, The Getaway, The Italian Job, and In The Heat Of The Night. Jones also produced music for the The Wiz which starred Motown singers Diana Ross and Michael Jackson. Once filming for the movie ended, Jones invested into Jackson's career.
Throughout the documentary, viewers see three sides of Jones- the good, the bad, and the ugly. During his life, Jones achieved many great things in his life, but experienced some harsh times–including multiple divorces, and brain surgeries.
Quincy is narrated throughout its entirety, and interviews from Jones provide context and eyewitness statements to the events. During the documentary, viewers feel like they are traveling with Jones as he does press conferences and public events. Music that Jones produced is also used throughout the film–including Jones' own material and songs from Jackson's first three studio albums. The soundtrack of the film help the viewers understand how much discography Jones has created. In the documentary, Jones also releases archive footage from when he produced Off The Wall and Thriller.
Any person who is interested in music production or wants to know how the King Of Pop got his big break, should watch this documentary.