Coyotes Season Starts Off With New Video Screen, Loss to the Ducks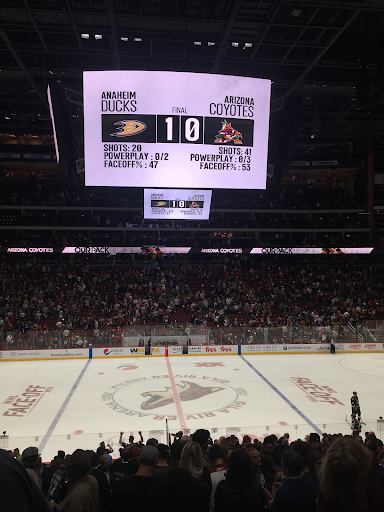 Arizona's hockey team, the Coyotes, played their very first home game at Gila River Arena against the Anaheim Ducks, two weeks back on October 10.
Sophomore Kassi Sundin attended the game-her first time seeing national hockey live. Sundin was excited for the game because it "would be interesting to see if anyone gets knocked into any walls." At the end of the game Sundin thought  the experience was fun, but going she thought that "there was going to be a lot more aggression." As a first time viewer, Sundin was surprised that the Coyotes did not score. Sundin said that she would still go back to another hockey game because she "had a lot of fun with my friend–and I got to eat food."
At most sports games in Arizona, there are volunteers for something called the 50/50 raffle- and this raffle is present at the Coyotes' game as well. In the 50/50 raffle, people donate money to the charity at the game and during the last quarter/period, the winning raffle number earns half of the donated money. For the home opener, Harvest Compassion was working for the 50/50 raffle. A volunteer named Tammey who is a "slight hockey fan herself" said that Harvest Compassion is "a local non profit and it has two food banks in Paradise Valley and Maryvale".
Unlike other sports, hockey has periods, not quarters or innings. In the first period, both teams did not score any points. In the second period, the Anaheim Ducks scored a goal. In the third period, which is the last period, the Anaheim Ducks scored another goal which made them win. In all, the Arizona Coyotes did not use much aggression when it came to scoring but had 41 shots at the goal while the Anaheim Ducks had 20 shots at the goal.
A new addition to the Gila River Arena is its massive video board. In the past, the Arizona Coyotes have used a smaller much smaller screen for games. "The new video board is a huge adjustment for long time fans," local Coyote enthusiast Michael Thompson said. "It's what made a Coyotes game special."