KOD Concert Review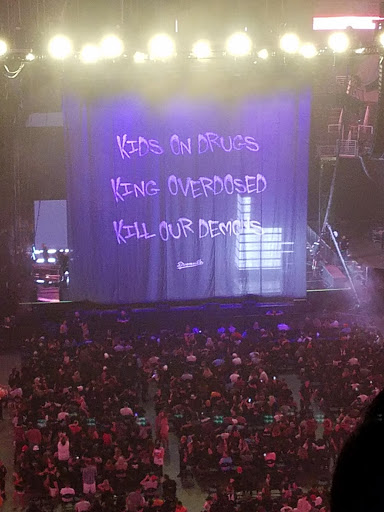 Nevaeh Corchado, Staff Writer
November 2, 2018
    J. Cole is a rap artist with a laid back flow and a number of profound messages. His last three albums, 'Born Sinner', '2014 Forest Hills Drive', and '4 Your Eyez Only', all have a mellow tone; he talked about his problems in America as being a young black male, how he's struggled to deal with success, along with other things. 'KOD' is Cole's new album, which stands for 'kids on drug', 'kill our demons', and 'king overdose' -a title Cole uses to refers to himself. This album gives listeners more of a trap, hyped-up sound like more rappers have today. Although he didn't have his usual mellow sound, Cole had the same profound lyrics and chill flow. 'KOD'  is more about kids and young adults knowledge of dealing with pain, along with Cole dealing with his pain, and how to fight addiction. On May 18, 2018, Cole announced to the world via social media he was going on tour for this new album.
    J. Cole is my favorite artist of all time. I've loved his music ever since hearing the single called 'Louis Vuitton' and Cole's mixtape 'Revenge of the Dreamers'. His Arizona concert was held at the Talking Stick Arena on August 21, 2018 at 7:00 PM, and ended at around midnight. The concert featured other artist such as Jaden Smith, EarthGang, and Young Thug. Then Cole came out with the intro for the KOD album and blew the crowd out of the park. Cole performed some songs off the KOD album, pausing in between to share stories or meaning of the songs, then jumped back into the past with songs like 'Lights Please' and 'In the Morning'. Cole also sang songs from his 2014 'Forest Hills Drive' album, and '4 Your Eyez Only.' At this show, he chose to sing fan favorites and songs with topics everyone could relate to. He ended the night with '1985' and performed the second half of the song acapella with the crowd. Cole gave a phenomenal performance–really engaging with the crowd and giving a further explanation on the meaning of the KOD album which is facing problems or situations head on instead of running and hiding behind addiction or temporary pain relievers like drugs and alcohol. Cole also hit us with some fan favorite throwbacks such as 'No Role Modelz', and 'Neighbors.' Overall, this was a fantastic performance and concert.

Hang on for a minute...we're trying to find some more stories you might like.