Community Honors and Remembers Veterans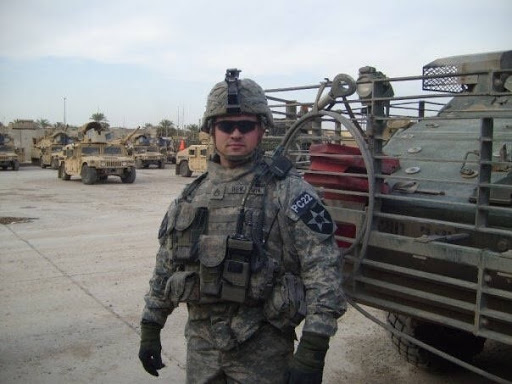 "I knew by the time I was in 8th grade that I wanted to join the Army," Army Veteran E-4 Specialist Ruben Levario said. "Because I had family members that served, and they were my role models when I was growing up."
Veterans Day, celebrated November 11 is a holiday that celebrates the service of US veterans like Levario. The day is meant to show appreciation for men and women from the US armed forces, and their sacrifices. 
"The biggest sacrifice I made during my service was being seperated from my family and not going to schools that the military offered," Levario said. "I would say that I did something most people don't think about doing. I'm proud that I was able to serve and defend my country. I made lifelong friendships with people I now can call brothers and sisters".
Veteran and VHS math teacher Stephen Manak served a total of 7 years in the Army as a Sergeant. He said that being a soldier "means that at some point in your life you chose to write a blank check to the people of the United States".
Veterans Day is especially important "for those Veterans that did not make it home," Lieutenant Colonel and veteran Ed Simpson said. "I think that it is good for all of us to remember and honor those who never came home as well as their families who are here and have to live with the fact their father, brother, husband, or mother, sister, wife will never come back."
"I did 21 years in the military and I spent 3 and 4 years if that away from my family in other countries," Simpson continued. "When I was home I spent the better part of my last ten years in the military working 60 to 70 hours a week. So the time away from my family and all that I missed in my kids and wife's life are what I consider my biggest sacrifice and regret."
Veteran Technical Sergeant Devin Wilson said that soldiers' daily lives are full of sacrifice. "I would say that the biggest thing I gave up while in the military was my own freedom so that others could experience it," Wilson said. "In the military you have no freedom, you are on the job 24/7, and it is a bit stressful knowing that at any time you may have to leave your loved ones and cannot tell them what you are doing or where you are headed. I think the ones that sacrifice the most are the spouses and children that we leave behind for extended periods of time."
"I believe that most of us didn't join the military, especially during war time, to have a holiday like Veterans Day or to be thanked for what we did," Army Veteran Sergeant Eric Pittman said. "I believe that we did it because it was the right thing to do. On the contrary, I think it's great that we live in a nation that recognized and appreciates veterans. Not necessarily for waging war but rather, the morals and standards in which we live by, or the character of men and women that put on the uniform that have the courage to protect what they love and cherish even if it means sacrificing their lives for something bigger than themselves."   
This sense of sacrifice and service is also why Simpson chose to join the armed forces."I think the biggest reason [I chose to join] was to help and protect others," he said. "I think that's one of the most important things we can't do it for themselves. I think if we can protect themselves and to give a feeling of safety and security to people that's a huge gift and I find peace in providing that to as many people as I can." 
"I was in 10th grade gym class when I watched the second plane fly into the second tower of the World Trade Center. I knew then that I was going to join," Pittman said. "I wanted to make a difference and I thought the best way to do that was in the Infantry."
Not all the veterans who chose to join the USA's armed services honored on November 11th are still living, however.
"As a unit, we all lost two of our friends, Sergeant First Class Rich Henkes and Staff Sergeant Darrel Griffin, in Iraq," Pittman continued. "We all shared the burden of potentially losing friends or our own lives, but that was a sacrifice we were all willing to accept because that was our duty."