A Star is Born Review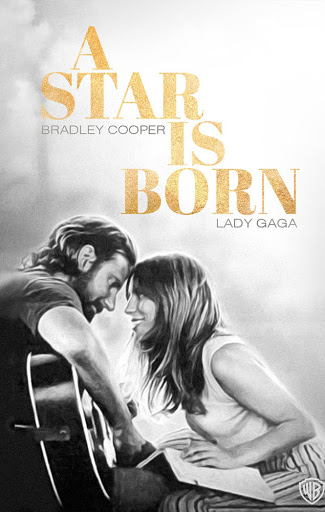 WARNING: The film A Star is Born deals with depression and suicidal topics.
A Star Is Born is a musical romance centered on two people named Ally (Lady Gaga) and Jackson (Bradley Cooper). The film is also written and directed by Cooper. Ally works as a waiter during the day and a singer in a bar at night. Jackson is a famous singer from Arizona who is addicted to drugs and alcohol. The movie is, rated R for severe amounts of profanity, substance abuse and some sexual scenes and nudity.
The audience stayed engaged throughout the film's screening. Something interesting that happened while I was in the theater was when Cooper's character stated that he was a Arizona native, the audience cheered and whistled.  If you are one who is sensitive towards romance movies, bring some tissues–because even I cried. Towards the end of the film, I heard the audience become silent and cry due to a sad scene.
A big part of the movie was the soundtrack. Most of the songs featured in the film were originally written by Cooper. As a person who listens to music 24/7, Cooper did a fantastic job of creating the movie's soundtrack–and as a fan of Gaga, I had goosebumps from hearing her amazing vocals in songs such as "Shallow" and "I'll Never Love Again". The song "I'll Never Love Again" features an orchestra which gives Gaga more power for her vocals and emotion.
I would recommend this movie for anyone who loves drama, romance, or musical films as it brought something new  into the story-telling world. Any Gaga fan should view this movie also as she is strong in both the acting and music. A Star Is Born is not your average romance film. It includes many twists and shockers which makes the movie that much more interesting. In the beginning of the film, there are many scenes with humor which made me laugh a lot.  I also believe that this film handled the topics of depression and suicidal topics well–but the discussions and depictions can be pretty upsetting. I strongly believe that this film will be nominated for an Academy Award later this year.