Reports of Car Accidents in VHS Parking Lot Leads to Cancelation of a Senior Tradition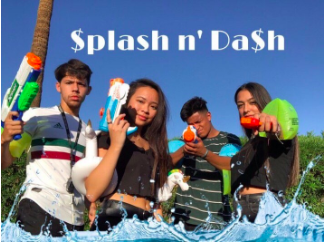 Senior Assassins, the hot new trend in high schools across America; where students, typically seniors, form teams and attempt to simulate "assassinating" fellow competitors by shooting them with water guns. This trend hit Verrado a few years after the opening of the school and has not caused a problem until this year. As the game commenced at VHS, by day three there had already been two car accidents in the school parking lot. These misdemeanors caused the school to issue an email blast across the senior class and all parents officially declaring the entire campus grounds of Verrado High School off limits and a "safe zone" 24/7. These new rules also apply to any competition, practice or activity that Verrado is involved in on or off campus.
Despite the administration putting their best foot forward trying to maintain a safe and distraction free learning environment, some of the students don't totally agree with the new rules that have been put in place. Jayden Ederm, a student involved in one of the reported accidents believes that individual punishment should be implemented instead of the entire senior class suffering for a single person's mistakes."I understand the concern on student safety but an entire student body should not be punished over one person's actions" said Erdem. Mr. Showman, the new principal at Verrado had a lot to say about the events. "We made the decision as a team, as well as with the school resource officer, to keep our students safe. And ultimately that's the decision we made and we then released the email to all parents and seniors" said  Showman. The person who is in charge of Senior Assassins, who asked to remain anonymous, believes that the repercussions were uncalled for and ruined the game. "The administration explained their frustrations to me about the game and said that they would be giving students 3 overdrives if they catch any students with gear on campus. I think that is way too extreme." All things considered, both sides of the argument are valid but because the administration has full authority over Verrado's campus, what they say goes.

Hang on for a minute...we're trying to find some more stories you might like.