Sequel to "Call Me By Your Name": "Find Me"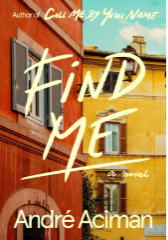 "Call me by your name" is a novel written by Andre Aciman published Jan. 23, 2007. Aciman is also the author of "Out of Egypt" and "False papers". This novel begins with the narration of Eliot, the main character, recalling the events of the summer of 1983, when he was seventeen and living with his parents in Italy. Each summer, his parents would take in a doctoral student as a house guest for six weeks, who assisted his father with academic paperwork. Elio isn't fond of this tradition, as it requires him to vacate his bedroom so the guest can use it for the duration of their stay. Oliver, the guest for that summer, is carefree and detached, a stark contrast to Elio's introversion. Elio selected Oliver as a guest in the hopes of "instant affinities" between them and acts as his tour guide, however Elio's attempts to impress Oliver are met with indifference. When Oliver grabs Elio's arm after a volleyball match, Elio retracts in fear. Though Elio recognizes his own bisexuality and his attraction to Oliver he doubts that Oliver reciprocates his feelings. As the days pass, Eliot is forced to take fearful steps towards love and desire, learning to understand the compelling charm of shared moments and discovering the heady beauty of awakening passion over the course of a summer that will alter his life forever. 
The book focuses on the humane fears, mistakes, passion and vulnerability of the characters. In an interview, when asked about the vulnerability of his characters, Aciman stated, "What the novel shows, is that besides the fear of ending up with the totally wrong person, the first time between two people is underscored by two things: desire and awkwardness. The awkwardness of the first time when two individuals touch each other is never lost on the young…or the old." This idea is visible in his passionate writing and his use of language, rummaging inside the readers hearts and awakening a feeling of wanderlust. The book itself has won five awards the same year it was released and was turned into a film in 2017, that won 13 awards from the year it was released, to this current year. Nicolas Krauss, an author of his own love stories said, "If you are prepared to take a hard punch in your gut, and like brave, acute, elated, naked, brutal, tender, humane, and beautiful prose, then you've come to the right place," making his appreciation for this novel clear. With this said, as a fan of the book, it is a definite read and am absolutely thrilled to announce that. Aciman has made public the release date for this amazing book's sequel, "Find Me", that will be coming out on Oct. 29, 2019, to explore the adulthood of these fantastic characters.