Don't Skip On "You Must Not Miss"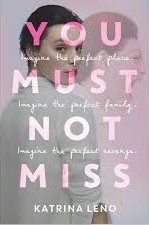 In the town of Farther, Margret 'Magpie' Lewis' life has gone down hill and to relax she goes to her fictional town of Near in the book "You Must Not Miss".  "You Must Not Miss" is a captivating fiction novel written by Katrina Leno, released on April 23, 2019 and published by Little, Brown and Company that will make you cling to the main character's lifestyle and will make you wonder what will happen next in this fantastic story. 
The fictional town of Near is where everyone is the opposite of the real world and where Magpie's family never fell apart, where her dad never cheating on her mother with her aunt, her mother never went back to drinking, and her sister never moved out. Due to the infamous incident that happened at a party, her best friend now hates Magpie and she found a new group of friends who are all "outcasts" of the school. "You Must Not Miss" perfectly displays the days of a highschooler who has had many family and social problems and it really delivers on that note with Magpie not doing her homework even when her teacher constantly reminds her and gives her new deadlines. It also gives off a new spin with Magpie creating Near so it has a Fiction spin to it, and this allows  readers to still be entertained even with the whole Slice-of-Life storyline. "You Must Not Miss" also contrasts to "The Lion, the Witch, and the Wardrobe" which involves the characters going into another world.  
Readers will always want to pick it backup after setting it down because Leno adds so many details and imagery in her style of writing, it was almost like watching a movie. "You Must Not Miss" compares to a horror movie where whoever Magpie doesn't like, she takes them to Near to be killed and come back to the real world changed. The people die in Near by their loved ones swallowing them whole which is a horrifying experience to live through. "You Must Not Miss" was an excellent story and definitely deserves an eight out of 10 with all the descriptive details, however it does leave you bored at some parts. This does not affect the story as an entirety  and is highly recommended.