Review: Tool's "Fear Inoculum"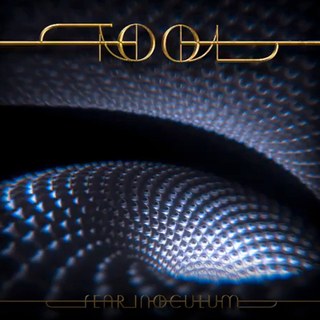 After a long-awaited 13 years, on Aug. 30, progressive rock powerhouse Tool finally released their fifth studio album Fear Inoculum, a 79-minute collection of seven new tracks performed by the band. The album has many similarities to their previous releases, such as the overall mood and musical structure of the tracks. These components lead to what could possibly be the best album of the year (so far), and one of Tool's greatest releases, proving to be a fierce competitor with the musical mastery of their 1996 album, Ænima.
      The mathematical idea behind the album, a concept Tool is known for utilizing, is to base most of the musical aspects, such as the time signatures and total number of tracks, off of the number seven.  All seven tracks hold special value, such as "7empest", the heavy 15-minute long closer that proved to be the biggest highlight of the album and one of Tool's greatest compositions ever. The beginning of the song is reminiscent to their earlier, heavier days such as their 1993 studio album Undertow, but then suddenly warps into a Jimi Hendrix-esque solo by guitarist Adam Jones that is sure to both please and remind fans of their 2001 studio album Lateralus. Another incredible song was "Invincible", a track that many had previously heard thanks to live bootlegs, but never in such a polished and immaculate manner. The song slowly shifts musical form from a silently magnificent piece to a heavy display of groove mastery flawlessly coordinated by Jones and bassist Justin Chancellor, and is a guaranteed album classic.
    Among the brilliant new material, however, one track was a bit weaker than the others, and possibly even out of place, and that is the instrumental piece "Chocolate Chip Trip". The odd, extraterrestrial and psychedelic drum solo perfectly displays drummer Danny Carey's skill set, but it's not an unknown feat for him. Take the track "Ticks & Leeches" from Lateralus as an example, which some have considered to be one of the best drum performances in the history of prog-rock. It just felt unnecessary for the album to individually showcase Carey's abilities, but wasn't a major problem due to its short length in comparison to the other tracks, clocking in at around five minutes. The track "Culling Voices" also felt a bit weak on the instrumental aspect, but was redeemed by a beautiful vocal performance presented by frontman Maynard James Keenan. Other songs on the album such as the title track "Fear Inoculum", "Pneuma" and "Descending" display musicianship on all levels, and provide both consistency and substance that, in the end, hold the album together.
     Putting together all of these aspects, you are given a brilliant album that will be a certain classic among both Tool and rock fans alike. If Fear Inoculum is any telling of how Tool will continue to grow as a musical enigma, fans should definitely be excited for what is to come in later years. Even if this proves to be Tool's final release, "7empest" is possibly one of the greatest examples of a breathtaking modern swan song, earning Fear Inoculum the title of a modern masterpiece.