Reviews of Lana Del Ray's album Norman F****** Rockwell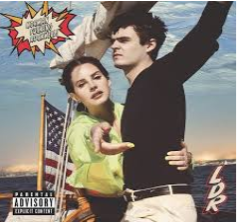 Lana Del Rey's fifth album, Norman F******** Rockwell is nothing short of iconic. Surpassing her previous best album, Ultraviolence.
Raina Zapien, Staff Writer
Lana Del Rey's newest and recent album, Norman F******* Rockwell is finally here. The release date of this album and the symbolism behind it arrives at a time of growth for America. While Norman Rockwell himself is used as a type of American propaganda and a symbol for American history and patriotism, a living representation of the "American Dream." Lana Del Rey rewrites this narrative, using this album to portray the twisted and "Un-American" parts of our country. Lana Del Rey's music has completely changed from her previous albums, turning her tours centered on American patriotism into refusing to perform in front of the flag since 2017, deeming it "inappropriate". In NFR, Lana Del Rey references the L.A. reputation of where "American dreams go to die," her past habits of being "hopelessly in love," and her own perspective of America. This album is an emotional rollercoaster, like the many men mentioned in her songs, she calls out their flaws with satire. Yet, Lana Del Rey contradicts herself for continuously forgiving the man who disappoints her, "If he's a serial killer then what's the worst that can happen to a girl who's already hurt?" While Lana Del Rey's genre of music has never shifted, she's transformed her music with the transformation of America
Review: Lana Del Ray's Norman F******g Rockwell
Maia Thompson, A & E Editor
Lana Del Rey's sixth studio album, Norman F*****g Rockwell, was released on Aug. 30, 2019. The label of this album is PolyDor and Interscope. This album is mediocre because it starts out strong but then it becomes long and boring.
While listening to the album, the grand piano stood the most. This instrument made each song sound formal and sometimes sad.
The first song was the perfect opener for Del Ray's album. It starts out strong by telling a story along with a grand piano. The song can be described as pretty and about the actual Norman Rockwell. 
"Mariners Apartment Complex" gives Del Rey confidence in her vocals along with a folk tune. "Venice B*tch" is a song that romanticizes an artistic couple, this song was the 10-minute instrumental portion and was very enjoyable. "F**ck it I love you" involves Del Rey reflecting on her daily routine in the past. "Doin' time" is actually a cover of the 1996 Sublime song. The cover fits well with the theme of the album, which is about the American lifestyle. The song is about a significant other that cheats and makes the other person feel like they can't leave. I believe that Del Rey chose the cover since it includes the lyric "summertime". This could possibly be a reference to her well-known song "Summertime Sadness". "How to disappear" has a jazz feel to it by mentioning her feelings for a man that she loved. It could be described as "The greatest" as one of the most nostalgic songs off of Del Rey's album. In the song, Del Rey she reflects on political and musical history. 
Half of the songs on the album are enjoyable, but it does not maintain a smooth pattern. If Del Rey changed the tracklisting, then the story would have made more sense. For music listeners who like the alternative genre of music, this is the album for you.