Season 6 of "Marvel Agents of S.H.I.E.L.D."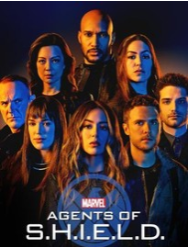 On Sept. 1, "Marvel Agents of S.H.I.E.L.D." came out on Netflix with their sixth season. The storyline was baffling at first but once it started to flow it became more understanding and was entertaining. 
The audience really has to be paying attention while watching, otherwise, there will be confusion.  It was not one of their best seasons, however, it was one of the most interesting ones. The whole season was themed on S.H.I.E.L.D. (Strategic Homeland Intervention, Enforcement and Logistics Division) traveling through time to the future and back to see one of the main characters that had died earlier in the show.  During this, other issues arose, for example, invasive plant species were attempting to make Earth into their new home, so S.H.I.E.L.D. had to put a stop it and protect Earth.
Throughout the season there was a lot of going back and forth between what was happening in space, looking for the character that died and then what was happening on Earth with the new species from the different plants. These episodes will keep you wanting to come back and watch more, the season was still missing the "WOW" moment that the past seasons have had. That being said the season was not bad at all, in fact, it was enjoyable and many people who are Marvel fans enjoy watching this show as well.
They left it open for another season and it will be interesting to see what new things get added or even what things they could bring back from past seasons.  Season six of "Marvel Agents of S.H.I.E.L.D." is a highly recommended show because it does draw you in and keeps you on your toes for what is going to come next and it is different from other shows being watched on tv.